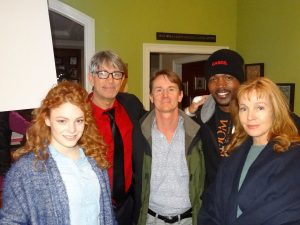 A young woman is the victim of sex-trafficking in her suburban home, but a school friend helps guide her to a safe place, which uses therapy horses to connect with emotionally-damaged young women.
Although equine therapy is a proven treatment for people with behavioral, emotional and physical special needs, the story line above is actually the basis for a dramatic made-for-TV movie titled "Unbridled."
Produced by Christy and Jerry McGlothlin for Moving Visions Entertainment, Inc., "Unbridled" was directed by John David Ware. Currently in post-production, filming finished on March 9 and it's scheduled for a fall release.
Starring as the victimized Sarah, is Flower Mound actress, Tea McKay, 19, who already has an impressive beginning film career.
"I grew up being very 'artsy,'" said McKay. "I did all kinds of dance—ballet, jazz, tap, hip-hop, everything—since I was four [years old]. And I loved doing competition, but I stopped about two years ago, when my acting took over and became more important."
She'd performed in theatrical things throughout middle-school and while she enjoyed acting and dancing: "I don't like to sing in front of people, so I started to focus on film."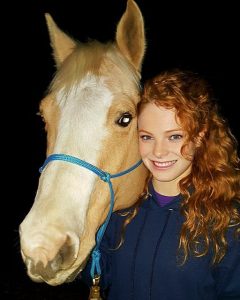 McKay studied at Cathryn Sullivan's Acting for Film school in Lewisville. She credits Sullivan for helping her get past her fear of performing in front of the camera and teaching her basic acting skills. She also was signed by her agent, Dee Ann Vernon with the Kim Dawson Agency in Dallas.
She added that her manager is Vicki Baumann, owner of Work Management in Los Angeles.
"I met her when I was out working in LA," said McKay. "She's really been helpful getting me opportunities and has been important for my career."
She credits her family, especially her mother, as being her support source.
"My dad works on a oil rig and is gone for a month, then home for two weeks," McKay said. "He's very supportive of what I want to do, but his schedule means he can't always be here."
She's the third of four kids. Her older sister, Tierny, 29, is married and has a little son; her older brother Jairus, 22, shares her same birthday; and, brother Wyatt, 16, is very "sports-y."
"My mom [Maryrose] is my best friend," said McKay. "She's always looking out for me– managing my schedules and reminding me of appointments; she helps me a lot."
Her real life situation is the opposite of the character she plays in "Unbridled."
"In the movie, Sarah is betrayed by her mother," said McKay. "But, actually, Dey Young, who plays Karen, became my 'mom' on set. She is so sweet, kind and honest; she really took care of me. It's hard to find people like that in the world."
In addition to Young, her fellow leading cast members include: Eric Roberts ("The Dark Knight,"  "The Expendables" and "Suits," among many other films and TV series) as Roger; and T.C. Stallings ("War Room" and "Courageous") as police Detective Sangrin, with whom McKay remains in contact.
She said the support of the other cast members and the people behind the camera was important, because "Unbridled" was inspired by a North Carolina Equine Assisted Psychotherapy program and the movie was filmed on location in North Carolina. Being in that authentic environment allowed McKay to form a real bond with one of the special horses herself; just like her character.
"The thing I like most about acting is being able to play someone who's really not like yourself," she said. "Being able to work with the therapy horses made it [playing Sarah] much easier. I even liked the overnight shoot."
Although acting is her primary focus right now, she does have a "Plan B."
"I've always been interested in what casting directors do and I've even been an assistant for auditions," McKay said. "Although I'm working on my acting now, I'd also like to go to a film school and learn all about what goes on behind the camera. And, if that doesn't work, I'd love to be a social worker; love being able to make someone smile."
McKay said she's been in talks with some directors and producers about some projects and is excited about this summer.
"If you believe in yourself, then you have to go for it," she said