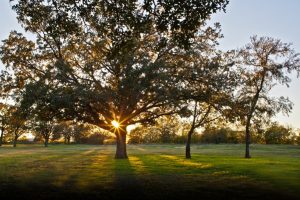 Oncor, along with several other utility companies across the U.S., has partnered with the Arbor Day Foundation to offer free trees to residents in honor of Arbor Day in support of the Energy-Saving Trees campaign.
Planting the right tree in the right place is key to maximizing the energy-saving benefits that trees provide. When planted properly, a single tree can save a homeowner up to 20 percent on energy costs.
The Energy-Saving Trees website allows anyone to enter basic information about their property into an online mapping tool, and plant virtual trees to calculate the greatest energy and money saving benefits. Once the user reaches their tree limit, they can begin the checkout process to receive a free tree.
As one can guess, trees provide more than energy savings such as improved air quality, reduced stormwater runoff, beautification of your neighborhood, reduced urban heat island effect, and a smaller carbon footprint.
A promotional code found on Flower Mound resident's utility bill is required and may not be available to all Flower Mound utility customers.
To take advantage of the free Energy-Saving Trees offer and online tool, visit www.energysavingtrees.arborday.org. For more information, please call 1.855.234.3801 or email [email protected].