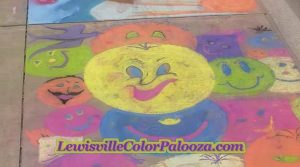 The City of Lewisville's first ever ColorPalooza: A Celebration of Spring is one week away. This family-friendly event will be held Saturday, April 9, from 10 a.m. to 4 p.m., in Old Town Lewisville. It will feature a variety of entertainment, exhibits and interactive events with a spring feel.
Admission will be free, although some activities might carry a nominal charge. Musical and cultural groups will perform on the Wayne Ferguson Plaza stage and the City Hall steps throughout the day. Food trucks and vendors will offer a variety of food choices, including some with vegan and organic menus.
Main attractions will allow festival-goers the chance to put their artistic chalk skills on display, revel in the beauty of sidewalk chalk art created by professionals, learn about environmentally friendly products and learn good conservation habits.
Chalk This Way
This crowd favorite, sponsored by The Lakeside Arts Foundation, returns to Old Town Lewisville for its sixth year. The Lakeside Arts Foundation is looking for artists of all ages who would like to try their hand at chalk art and compete for various prizes in the amateur art competition. For a fee of $20 the day of the event, each artist will be given an event
t-shirt, chalk, supplies, a handy pail to keep it all in and a chance to win one of several awards, worth up to $100.
Featured Professional Artists for Chalk This Way, at ColorPalooza are:
– Juan Aguirre, a renowned muralist from Dallas, whose most recent works of public art include, "One Human Family," on Cedar Springs Boulevard, in Dallas;
– Michelle Freeman from The Colony, whose work often features well-known comic book and cartoon characters. Freeman was the winner of the Amateur Competition at the 2012 Chalk This Way event;
– Lori Ann Fitzgerald, who has also been with Chalk This Way since its beginning, an experienced artist who got her start in sidewalk chalk art at the famous San Rafael Street Painting Festival in California. She will be doing a special, touching tribute "to all moms" this year.
– Two additional artists will be joining the Professional Art lineup, but both have been with the event for a few years, Pete Taboada of The Colony, and Carrie Dziabczenko of Fort Worth
Back again is the competitive scholarship competition. Juniors and seniors from Lewisville ISD are invited to participate in the Scholarship Art Contest. Students draw their best sidewalk chalk art to earn one of three possible scholarships up to $500.
A non-competitive children's art area is open to children of all ages. For a suggested donation of $3, children will be provided with their own sidewalk-grade chalk and a designated 2'x2' area in which to work. A rendering is not required for this area. Children may keep their chalk.
Eco Alley
Local organizations and business will be onsite at Eco Alley giving live demonstrations and educational information on various environmental topics. Some demonstrations at Eco Alley will include container gardening tips from the Denton County Master Gardner Association, information on solar panels, water conservation and a mobile experience center from North Texas U.S. Green Building Council that will exhibit sustainable/green products for residential and commercial buildings. There also will be several fun green activities for the kids.
Free festival parking is available in the east lot of City Hall, on Walters Street behind City Hall, the public parking lot at Elm and Mill Streets and along Main Street.
For a complete list of festival activities, visit lewisvillecolorpalooza.com.