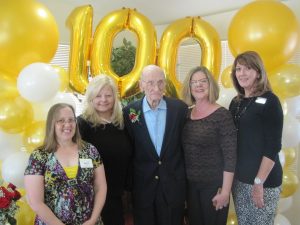 by Mark Miller, Contributing Writer
John Sterling didn't know what to expect when he entered the big gathering room at the rear of the main Pinewood Hills Retirement Community building in Flower Mound the last Friday in February.
"I'm surprised," he said of the 40 to 50 friends, relatives, fellow residents and Constable Tim Burch who gathered to celebrate Sterling's 100th birthday. "I thought there'd be a few– that would be the ones who said 'we finally got rid of him.'"
A luncheon plus a cake and punch reception in his honor made it quite a special day for Sterling.
Sterling took it all in seated in the back of the room in the chair of honor amidst a bundle of balloons, including three gold ones that spelled out "100." Well-wishers made sure they had their pictures taken with him.
"It's pretty special," he said. "You can't ask for more."
Everyone was there to honor a man who dedicated much of his early life to serving his country. In the midst of the Depression and with no formal training, he took odd jobs after graduating from high school in Oxford, Miss. Looking for something that paid better, he decided to join the U.S. Army in 1935 at age 19.
"I was single then," he said. "During that time, the economy was just flat, so most of that [joining the service] was for survival. I would do any odd job to keep my body and soul together."
It didn't hurt that the military offered the travel young Sterling was seeking, including being stationed at Schofield Barracks on top of the hills of Honolulu, Hawaii, that fateful day in December 1941, when the Japanese bombed Pearl Harbor.
"It was about 8- to 10-miles to Pearl Harbor and it was on a Sunday morning. I'd been out, of course, on Saturday night and was still in my bunk when the Japanese came," he recalled. "We could hear it. It was shaking the building. I jumped up and everyone else did, too. We were asking each other what the hell is happening, because nobody knew. It didn't take too long before we got word that the Japanese had attacked Pearl Harbor right down the hill from us."
That wasn't his only brush with danger, however. In January 1945, he was among a group of soldiers captured during the Battle of the Bulge in France. He spent nearly five-months in prisoner of war camps in Germany, before being liberated by American soldiers.
How was he treated during that time?
"It depended on who was in charge," Sterling said. "We'd have one sergeant who was halfway decent and then after a while they'd switch to somebody else. So it was good and bad."
How did he and the others survive?
"We just would get food wherever we could find it," he said. "The crew I was with, we tried to stay together as much as we could. So, if I happened to luck out and get a loaf of bread, I'd share it with my buddies and vice versa. That's the way we got along until the Americans came and rescued us."
Sterling served in the Army until 1950 and returned to his parents' new home in Sherman, Tex., where he worked in building materials. Then, one day in 1954, he was walking down the street where he saw a sign that the U.S. Air Force was recruiting. Wanting to see more of the world, he stopped in.
"I asked the guy 'would I be eligible for military service' and he said 'well after a few questions it would depend on your physical condition,'" Sterling said. "I said 'let's go ahead and sign me up.' He sent me to down to Dallas and that's where I enlisted."
He stayed in the U.S. Air Force nine years, retiring in 1963; after earning a combined four Bronze Stars, plus four other military honors.
Sterling worked nearly two-decades as a supervisor (or "stool pigeon," as he called himself) for the City of Dallas Water Department, before retiring again at age 70. He then worked a few years in real estate, before finally retiring permanently.
With his wife, Lucille, he returned to his native Mississippi for a while, then moved to Austin for several years to be near their grandchildren. They had two sons and a daughter and have two grandchildren and one great grandchild living in Austin.
The couple then moved back to the Metroplex, living in Lewisville, until Lucille died in 2010 at age 91. Sterling then moved to Pinewood.
When asked: What's his secret to living so long? The response is "Lying a lot."
Living at Pinewood also has helped.
"They have good food; you can't beat it," he said. "I've been so fortunate, I can eat anything I want and I sleep good. No problems at all."