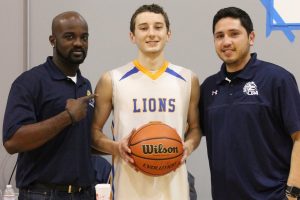 To score 1,000 points in a high school career is a major accomplishment; but doing it in only one year– almost unheard of.
Enter Logan McClure, a Flower Mound Coram Deo Academy senior basketball player who led all players at every level in scoring this season. He hit 1,000 points during the CDA Lions' match-up with Covenant Christian Academy on Feb. 5.
McClure helped lead Coram Deo to its best season ever in boys' basketball with 15-wins. McClure said that he was pleased with the average of 30-points per game he was able to contribute, including racking up 57 against The Highlands School on Dec. 10, and more than 40 in four other games.
"There's always room for improvement, but I think that this season was a step forward for me and my team; and that's always the goal," McClure said. "I was able to play my senior season with a group of guys that I love and coaches that were supportive and pushed me to get better; and we had a great season."
McClure said that he was kind of a late-bloomer with his passion for basketball; but said that once it took, he has never looked back.
"I played through junior high, but I really began to fall in love with basketball after my eighth-grade year," he said. "I knew that I needed to improve a lot before playing in high school, so I began spending my summers playing basketball. The more I played, the more I felt a passion for the game; and the harder I wanted to work."
McClure's 30-points per game was the most of any player, at any level, in the Metroplex this season. He said that the accomplishment is special to him for a number of reasons.
"Leading all scorers makes me feel proud; not just of myself, but also of my teammates and my coaches," McClure said. "Without the new system put in by our coaches, without my teammates working hard with me, it wouldn't have been possible. I think we had a great season that's going to have a lasting impact on Coram Deo basketball for years to come.
"I'm proud of all the time and work that I put in to get to this position, and I'm looking forward to continuing my basketball career wherever it takes me."
Coram Deo Assistant Coach Fonzo Martinez said that McClure had one of the best seasons he has ever seen. He added that one of the things that most impresses him is McClure's work ethic.
"Logan is one of the hardest workers I've coached," Martinez said. "To do what he did, you have to constantly be getting better. Logan is up before school everyday working out and working on his game. He's always in the gym."
McClure finished the season with 1,054 points and plans to play college ball. He is undecided about where he will attend.