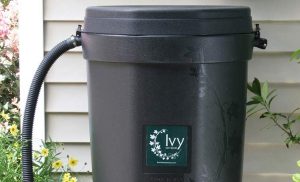 If you have thought about saving water and cutting back on waste, Keep Flower Mound Beautiful has a deal for you.
KFMB is selling rain barrels and compost bins at a discounted price for a limited time.
The Ivy rain barrel, which regularly retails for $129, comes with everything needed to assemble, collect, and use rain water, is available for just $69.95. Place your order by Sunday, March 27, at 11 p.m. by visiting www.rainbarrelprogram.org/flowermound.
This opportunity is for anyone interested, and is not limited to Flower Mound residents.
Those who order barrels must be able to pick theirs up on Saturday, April 2, between 10 a.m. and 1 p.m. at the KFMB Spring Trash Off and Environmental Health Fair, held in the Home Depot parking lot, 852 Long Prairie Rd.
To view the Ivy rain barrels in person, please stop by the Flower Mound Town Hall lobby, 2121 Cross Timbers Rd.