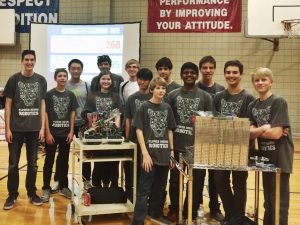 Flower Mound High School's Robotics Team 2019F and 2019A received top honors last weekend in Austin after 8 straight hours of tough competition.
Forty teams from across Texas arrived in Austin to battle it out on the field using game strategy, programming skills, robot driving skills, project management, engineering design and sportsmanship.
Team 2019F came away undefeated and held the favorable position to choose their alliance partner teams during elimination rounds. 2019F chose team 400X from Galveston and 2019A from Flower Mound High School. These three teams worked together to win their matches and brought home VEX Tournament Champion trophies. 2019F also won the Excellence Award and Programming Skills award.
FMHS Robotics' Coach, Ralph Szydlik expressed pride in his teams for not only winning but also showing sportsmanship on and off the field. Parents and students arrived early, helped the host school set up fields, troubleshoot and run the matches. Coach Szydlik instills in his students the drive to win with integrity. "It's a great day to be a Jaguar!"
Teams 2019F and 2019A have secured spots to compete at State on February 27 as well as Nationals on April 7-9 in Council Bluffs, Iowa. These two teams have high hopes of competing at the VEX World Championships in April against top teams from over 30 countries worldwide.
FMHS has a total of seven robotics teams this year working under the tutelage of Coach Szydlik. Students work together after school to design and build robots that can quickly and efficiently solve specific obstacles and challenges for the VEX game Nothing But Net.
Team 2019F is led by sophomore Phillip Boltan with freshmen team members Thor Gustafson, Carter Henry, Richard Kim, Garrett McGee, Collin McKeen, Saravan Narayanan, and Tommy Ward. The parent mentor is Brian McGee.
Team 2019A is led by Senior David Valazquez with team members Nick Bartholomew (11), Kevin Burns (12), Kevin Li (11), Al Madireddy (11), Michaela Reeh (10) and Kevin Turner (9). The parent mentor is Michelle Turner.
"The students have chosen a truly innovative approach to the game this year. It's this type of problem solving that can have breakthrough results," said Brian McGee, parent mentor of Team 2019F. "No matter how far they advance, they have already succeeded at contributing a unique design approach and strategy."
More information about the VEX Robotics Competition is available at RoboticsEducation.org.