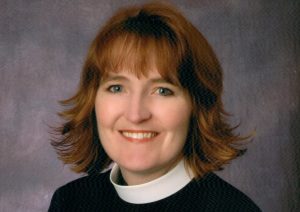 By Catherine Thompson, Senior Pastor, Episcopal Church of the Annunciation, Lewisville
How many of us have found ourselves driven to our knees, at our wit's end, unable to see a way out of a situation?  We reach that point where we feel we have no other option, and only then does it occur to us that there might be something to the idea of reaching out beyond ourselves, and the reality we see, to Jesus, who sees all and who loves us and cares for us more than we could ever imagine.
This is where the church becomes important in our life of faith.  While we wait – for the moment to pass, for the next step to become clear, or for our fear to subside – we can find encouragement in our relationship with Christ through others who also travel the way.
We begin to look for a group of others who also want to build their relationship with Christ.  That group is the church.  Unlike other groups, you can find immediate acceptance and encouragement.  Yes, there is a threshold for membership.  That threshold is accepting the life-giving, Spirit-filled relationship Jesus offers to each of us every day.  It is saying "yes" to God's call on your heart.
Once you've accepted that relationship, you will find many different ways in which to grow your faith, and to help others grow theirs.  In other words, to deepen your connection.  It all begins with truly seeing those around you, and wanting what is best for them.  It might start with a simple handshake or a quiet "hello."  It may begin slowly, but eventually you will want more.  Eventually, you will need to take the next step, and the next, until one day you realize you are serving as an encourager, helping to meet another's deepest need for belonging.
Attending worship is not the same as belonging.  The word "belonging" is defined as a secure relationship.  As a brother or sister in Christ, not only do we notice when you are in church, but we also notice when you are not in church.  We rely on you not to fill the pew, but to help us grow in our life of faith.  We build a relationship based upon mutuality and interdependence as we walk this journey together.
Connectedness to a church is so much more than checking a box or filling a vacant seat.  Connectedness enables us to encourage and support each other along the way.  Jesus puts it this way in John, chapter 15, "This is my commandment, that you love one another as I have loved you.  No one has greater love than this, to lay down one's life for one's friends."
Have you experienced that kind of love?  Do you feel connected?  If not, pray that God might show you the next step.  You never know.  It might be where you least expect it.
The Pastor's Place features articles written by a different area church leader each month.Call 940-728-8284 for more information.