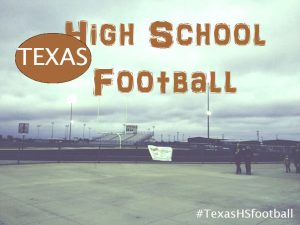 Argyle Looks To Open District With a Bang
The Eagles will start district play at 7:30 p.m. tonight when they host Carrollton Ranchview in their third straight home game.
Argyle opened up with Ranchview last year in district as well and put 72 points on the board en route to a state championship appearance.
The Wolves will have to slow Argyle's Taylor Sweatt, who rushed for 161 yards and three touchdowns against Paris last week, to have any hopes of pulling the upset.
If both teams hold to form, Argyle should cruise in this game.
Liberty Christian Will Try For Five Straight
Liberty will try to make it five straight wins tonight when they host Midland Christian at 7:30 p.m.
The Warriors won their fourth consecutive game last week, defeating Bishop Lynch by a score of 38-21 in a game where quarterback Nick Starkel passed for 280 yards and three touchdowns.
Liberty defeated Midland Christian 20-13 last season, as the rivalry continues to grow between the two programs.
Midland Christian should keep it close through the first half, but Liberty will likely pull away in the end.
Flower Mound Hopes to Rebound Against Lewisville
After falling short in the annual Battle of the Mound game last week, Flower Mound will look to rebound against Lewisville at 7:30 p.m. at home.
Noble Newton, who has combined for nearly 2,000 all-purpose yards this season along with 14 touchdowns will be a big key for the Jaguars in the game.
Meanwhile, Farmers receiver Tyrell Shavers will be a big factor for Lewisville, having caught 22 passes for 410 yards and seven touchdowns in the first five games.
If the Jags can contain Shavers and play good run defense, they've got a good shot in the game.
Marcus Can Make Playoff Statement With Victory
Marcus can take a big step toward the playoffs at 7:30 p.m. at Murphy's Kimbrough Stadium with a victory over Plano West.
Marcus is already 3-1 in district competition with its toughest game (Allen) already behind it.
The Marauders are led by Mitch Cason who has passed for more than 1,100 yards and 10 touchdowns and tight end Kaden Smith, who has 610 yards receiving and six touchdowns.
West quarterback Logan Williams has two targets he favors in Jackson Webb (259 yards, 3 touchdowns) and Tanner Harmon (238 yards, 4 touchdowns) for which the Marauders must account.
While Plano West defeated Marcus by 22 points last year, I can easily see Marcus returning the favor.