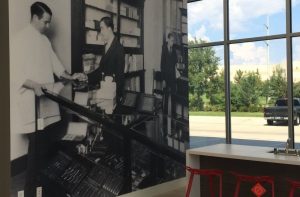 A state ranked the best in the nation to do business for the past three years: Texas.
A town that celebrates 175 species of wildflowers and native prairie grasses still flourishing since pioneer days: Flower Mound.
What better location for the third significant expansion within a decade for a company that has grown from a single downtown location to the largest privately-owned dental distribution company in the country?
Benco Dental, founded in 1930 by Benjamin Cohen, has remained family-owned and focused on its unique mission to "deliver success, smile after smile."
A ribbon-cutting event and open house will take place on Thursday in south Flower Mound at Benco Dental's newest design showroom. The company's third Destination CenterPoint will enhance its level of commitment to the more than 35,000 dentists and dental laboratories the company currently services nationwide.
"As part of the Benco difference, we begin each initiative by asking 'what does the customer want?'" said Chuck Cohen, managing director of Benco Dental. "We realize that one of a dentist's most precious commodities is time, so when we created the Destination CenterPoint concept, our goal was to deliver a broad array of products and services and insightful solutions in one place for customer convenience."
The newest design showroom, located at 501 Lakeside Parkway, Ste. 100, Flower Mound, will enable Benco Dental to bring to the lower Midwest a selection of dental equipment and technology that has been referred to by practitioners in Costa Mesa, California, as the "Disneyland for dentists."
These Destination CenterPoints – the inaugural showroom established in 2010 at the company's Pennsylvania headquarters and the second following quickly in Southern California – in addition to products, feature a hands-on design experience, to assist dentists in the redesigning or planning and construction of an office.
"Building a nationwide presence is contingent on a dedicated team.  We've only been able to grow and increase the offerings to our customers based on the commitment from our associates and vendor partners," said Rick Cohen, managing director of Benco Dental.  "We empower great people to do great work, and their continuous investment is what made possible this expansion."
Lou Mangino, vice president of operations of Benco Dental commented on the inspired work ethic. "Forty-five Benco Dental associates converged on Thursday, June 4, at our Grapevine Distribution Center after close of business and by Monday afternoon, customer orders were being processed at the new location in Flower Mound. It amounted to 3.5 very long days and the best teamwork and camaraderie I've ever seen."
Members of the community and town officials are invited to join in the October 8 celebration, which will begin at 5:15 p.m., and will feature local dignitaries, representatives from both the Flower Mound and Coppell Chambers of Commerce. In addition to a welcome from guest speaker Lori Walker, Flower Mound Chamber of Commerce President, guests will be privy to an exclusive tour of the design showroom and the 135,000-square foot Distribution Center on premise, which began operation on June 8, 2015. Prior to that date, Benco Dental's local distribution center –- one of five in the United States — had been located one mile away in Grapevine for the past 11 years.
RSVP to attend the October 8 Open House at [email protected].
"We are thrilled to welcome Benco Dental to Flower Mound and have them as a part of the Flower Mound Chamber of Commerce.  We look forward to partnering with Benco as they grow their business in our community," said Lori Walker, Flower Mound Chamber of Commerce President.
For more information, visit benco.com or call 1.800.GO.BENCO.