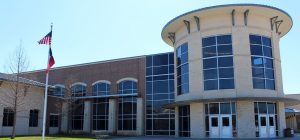 by Mario Zavala
Guyer High School has big plans for its Oct. 2 homecoming, with students invited to several events throughout the week to celebrate the event.
Festivities begin Thursday, Oct. 1, with a carnival hosted at the school campus, located at 7501 Teasley Lane in Denton, from 2-4 p.m. Sponsored by the Guyer Student Council, tickets will be sold the previous three school days and Thursday morning for $5 each.
On Friday, Oct. 2, the school will begin game-day festivities by hosting a pep rally at 1:15 p.m. The varsity football homecoming game against Northwest High School will take place at 7 p.m. at C.H. Collins Stadium, located at 1504 Long Road in Denton. At the game's halftime, the crowning of the 2015-16 king and queen will take place.
Guyer's final homecoming event, the annual dance, will take place 7:30-11 p.m. Saturday, Oct. 3, at the school. Hosted in the commons, the event is sponsored by the PTSA and serves as the organization's sole fundraiser for the year. Pre-sale tickets for the dance will be available for $12 from Monday to Thursday at the commons during homecoming week, with walk-up tickets available during the dance for $15.
For more information about Guyer's homecoming events schedule, please contact the school's front desk at 940-369-1000.
Mario Zavala is director of communications and community relations for Denton ISD.