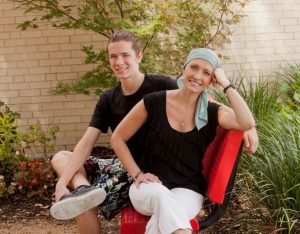 Amanda Thomas has been a warrior since she was a two-year old toddler. It's unfortunate, however, that the life-threatening foes she's battled have been staged inside her own body.
As a toddler, Thomas was faced with the then little-known kidney disease, Nephrotic Syndrome. It causes the body to excrete too much protein in the urine. The disease is usually caused by damage to the clusters of small blood vessels in the kidneys that filter waste and excess water from the blood.
Actor Gary Coleman of "Diff'rent Strokes" fame was the most well-known face of the disease. Thomas had only a 50-percent chance of living, which she did for 16 years. She went into remission 20 years ago when she was 18.
Thomas went on with her life, eventually marrying and having a son, Gage, 15, who's a student at Marcus High School. After becoming a single mother 13-years ago, she and Gage have formed a dedicated bond to each other. That unbreakable bond is now being tested by Thomas's current battle–a fight against a rare and aggressive breast cancer.
Her diagnosis is a Stage III-A Metaplastic Carcinoma with Chondrosarcoma. Less than one-percent of the population is diagnosed with this very rare form of cancer.
"I always had fibroid-thick breast tissue and, as a result, have had many breast biopsies over the years, always coming back negative," said Thomas. "In addition to testing the cobweb-like breast tissue, I was taking Tamoxifen for years which blocks high estrogen production and is used to help prevent types of breast cancer.
"In addition, I also had genetic testing for BRCA1 and 2 like Angelina Jolie has, but that also came back negative."
In spite of her preventive measures and no family history of cancer, a tumor the size of a marble was detected in the upper part of her right breast. It was diagnosed as metaplastic breast cancer, a very aggressive and invasive cancer which by detection has usually already spread beyond the duct or lobe.
The first recommended treatment was to wait to perform surgery following a series of chemotherapy sessions. Thomas felt uncomfortable delaying a double mastectomy and asked her primary physician for a second opinion referral. Time passed.
"I was working [as an interior designer] in a client's home when my breast cancer diagnosis entered our conversation," said Thomas. "The tumor had grown from the size of a marble to the size of an avocado or large lemon. A four-hour conversation with [the] client and the woman's husband convinced me to speed things up. They helped save my life to this point."
Most often, metaplastic breast cancer starts in one type of cell, such as those from the epithelial cells or the glands of the breast, and changes into another type of squamous or non-glandular cell. It is different from the much more common ductal or lobular breast cancer.
Metaplastic breast cancer is considered a sub-type of triple-negative breast cancer, because it doesn't have estrogen receptors (ERs), progesterone receptors (PRs), or the HER2 receptor, which is a protein found in ductal and lobular breast cancers. Thomas had a double mastectomy this May and hoped she wouldn't need to undergo radiation or chemotherapy infusions; allowing her to return to work after the surgery.
With that goal in mind, she had breast reconstruction completed by Dr. Drew Sanderson of Flower Mound Plastic Surgery and Aesthetic Spa, during the procedure.
"The surgery went really well with a result of getting all of the tumor and clear margins," said Thomas. "The oncologists also determined that there was no spread of the tumor to any lymph nodes or surrounding tissue or organs. It looked good and so did the reconstruction. Dr. Sanderson did a fabulous job."
Once again, her body had another surprise. Test results showed the presence of chondrosarcoma—another type of cancer. Usually, chondrosarcoma is a type of sarcoma that affects cartilage. It is a rare cancer that accounts for about 20-percent of bone tumors and is diagnosed in approximately 600 patients each year in the United States. Because chondrosarcomas are rare, they are treated at specialist hospitals with sarcoma centers.
At this point, she sought the advice of three doctors via referral from her oncologist to University of Texas MD Anderson Cancer Center to have her treatment plan created. The doctors there are some of the best in the world at one of the most outstanding research hospitals in America. Medical opinion led Thomas toward chemotherapy even though "no standardized" treatment is currently available for this type of cancer.
"Apparently, I fall into the less than one-percent of rare cancers," said Thomas. "I'm pretty much one-of-a-kind, so I'm a sort of a study subject … which is okay if it can help other patients."
Her inability to work and fight cancer full time has caused an extreme hardship to provide for basic needs and housing, much less to seek out the best care to beat her cancer.
"Gage and I are able to stay in our place thanks to the generosity of my landlord," she said. "I've always been the kind of person to stand on my own, put on a happy face, no matter what. I never would ask anyone for help, but it's not just me who's been affected by my cancer."
Thomas's family lives three-hours away on 45-acres of land with livestock, so her local friends, classmates from Grand Prairie and even her friends from elementary school have stepped in to support her. An interview on KISS-FM radio led to a Fox TV News segment in the last week of August. It featured Thomas selecting a wig to wear during her chemotherapy sessions and beyond.
Her wig was through the sponsorship of Jeanna Doyle with the nonprofit group, Suite Hope. Her friends have also created a fundraising site for her. So far, $4,800 of the $75,000 goal has been raised, but there's less than six-weeks remaining for donations.
Thomas has arranged to have her chemotherapy sessions locally at Texas Oncology in South Denton, although she must return regularly to MD Anderson in Houston for monitoring.
"I'm on the third of 12 sessions and was supposed to have one last Thursday [August 20], but I was too sick, so it got postponed until September third," she said.
Thomas and her family are holding tight to their faith while she is fighting the battle of her life and being there as a supportive mom of an incredible 15-year-old son.
"I believe in the power of prayer and in fighting the good fight," she said. "Even when you're physically and emotionally sick, prayer can work wonders. I may not have any money or be able to work, but I can pray. Already my friends have become my family and that's a blessing."