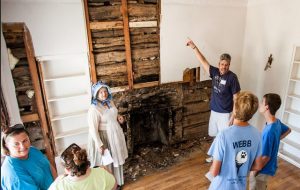 By Mark Glover
Since announcing the marvelous find of the Long Prairie Homestead Cabin (as we now call it) inside of a Flower Mound farm house in July, several descendants of William Gibson and other early settlers have come forward to share in the knowledge and quest for knowledge of our earliest settlers.
Many thanks to Larry Briscoe, Lindsey Troublefield, Jeff and Lori Hallford, and Rose Mead for sharing ancestry information and sharing in the excitement of this log cabin discovery.
It's likely that the antique cabin located inside an old house on the west side of Flower Mound will stay right where it is. Mayor Tom Hayden said recently that he and Town Manager Jimmy Stathatos have had many conversations with developer Curtis Grant, who owns the land the cabin sets on.
See the Cabin: Saturday, Sept. 12, from 9 a.m. to noon. 4801 Quail Run in Flower Mound
The 4.33-acre parcel of land situated at the southeast corner of Quail Run and Flower Mound roads could eventually be home to 12 homes, as Grant intends. But it's also "home" to a log cabin dating back to the 1860s. The cabin was discovered inside the walls of a house currently standing, facing Flower Mound Road.
William Gibson patented the property at this site in 1854 and appears to have been the builder and original occupant of this cabin when it was constructed about 1860. William Gibson's parents, William Gibson Sr. and Margaret Armstrong moved from North Carolina to Tennessee in 1796-97 after the birth of their first son, Jesse. James Gibson was born in 1797 and William Gibson in 1801, both in Tennessee.
William married Rebecca A. Wallis in the 1820s. William, his two brothers, along with several other extended family members migrated to Township No. 53 in Platte County Missouri in the 1830s. William and Rebecca had 10 known children. Four were born in Tennessee, five in Missouri and one in Texas.
The call for settlers to Texas reached Missouri shortly after the Texas Revolution. Sam Houston and the Republic of Texas had cleared the way for the settlement of North Texas with the signing of treaties with nine tribes of waring Indians at Bird's Fort in 1843, six miles south of Flower Mound.
In May of 1844, sixteen families from Platte County, Missouri loaded their wagons to brave a move to the wilds of North Texas. Most were related by blood or marriage. William Gibson, was among this group of early pioneers, as were James Gibson, Jesse Gibson, John Hallford, James Hallford, Owen Medlin, Hall Medlin and others. They brought their families, their dogs, their guns and their Baptist religion with them.
The Missouri Colony stayed in the Hallford Prairie area for several months before expanding into unsettled areas of southern Denton County and northern Tarrant County. Many settled in western Flower Mound, where William Gibson built what we now call the Long Prairie Homestead Cabin.
In 1845, James Gibson and John Hallford headed back to Missouri to convince other relatives to return with them to this new land of opportunity. Between May and September of 1845, several related families sold their holdings in Missouri in preparation for the trip to Texas.
Twelve ox carts of Missouri Colonists were ferried over the Red River on November 1, 1845, with this second wave of migration. In addition to the families mentioned above, families of Fosters, Allens, Eads, Larkins, Bakers and Andersons came in the second migration.
Pearl O'Donnell Foster in her book, Trek to Texas, 1770-1870, describes life on the trail for these pioneers:
"They traveled through the wilderness with few trails, fording the creeks and rivers at their most narrow or low points by oxen and covered wagons, 'prairie schooners.' The oxen traveled more slowly than the horses or mules, but were much more rugged and able to take day after day and even months of almost daily travel."
Foster describes the trip of the 1845 Missouri Colony migration from Bonham to the Three Forks of the Trinity River:
"In the Cross Timbers were droves of wild turkey, buffalo, deer, antelope and wild horses. Panthers and wolves lurked in hidden places, and they were constantly alert for small bands of marauding Indians. Game of all kinds, honey and wild grapes were plentiful. This was indeed a wild but lush and enchanting land."
John A. Freeman came with the second migration of the Missouri Colonists and was brought because he was a licensed Baptist preacher. In those days, a preacher had to carry a bible in one hand and a rifle in the other; he had to be prepared to fight the devil or fight Indians at any moment.
Freeman wrote his version of the trip in 1845. He crossed the Red River into Texas just north of Bonham on November 1st. They took a direct route to the Three Forks of the Trinity River and passed a company of Rangers stationed on the East Fork of the Trinity. The Rangers were dressed in buckskins and some wore coon-skin caps. Many spent their time drinking bad whiskey and playing cards, in between chasing marauding Indians.
Ed F. Bates writes of the Missouri Colonists in History and Reminiscences of Denton County, first printed in 1918.
"They were a peculiar people in some respects. They had but little property among them, and yet they were well enough to do. All seemed to be on an equality, and the sole object in living was to do all they could for the comfort and satisfaction of one another, and to make their way to a better world than this."
Our earliest settlers left us a proud history and strong heritage. They suffered severe hardships, fought savage Indians, and built homes, churches and schools in a wilderness we now call Flower Mound. We should remember their sacrifice and celebrate the lives they led.
About the Author: Mark Glover is native to Flower Mound & Lewisville. He is involved in the community through several local service organizations and foundations. Mark is a student of local history, a sustainability advocate, and is well known for his chickens, honeybees and hobby farm – Rheudasil Farms. He is married to Penny Rheudasil Glover, daughter of Flower Mound's First Mayor, Bob Rheudasil. For over 25 years Mark has helped local business people to buy, sell, lease, develop, and invest in commercial real estate through his company iMark Realty Advisors.