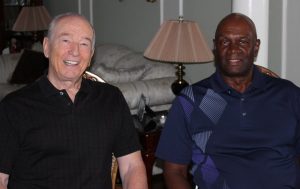 Pastor T. J. Denson leads Macedonia Ministries in Lewisville. He acknowledged his call to preach the gospel in September of 1978, at the age of 31, and was ordained in April of 1979. In June of 1979, Denson, who was at that time Assistant Dean of Students at DeVry University in Kansas City, Missouri, accepted a promotion to be Dean of Students at DeVry University in Dallas, Texas. He and his wife Shirley, along with their two sons T.J. Jr., age 6 and Tabius, age 2 arrived in Dallas in July 1979. He was installed as Pastor of Macedonia in September of 1981. Arriving with the fire of the Holy Spirit and an uncompromising love for God, he has nurtured that spirit which continues today to compel him to "service."  Pastor Denson believes emphatically that the "Word of God" is the answer. He believes in reaching the lost, influencing community values, personal and corporate prayer, spiritual reproduction, encouraging people and commitment of ministry involvement.
I invited Pastor Denson for an interview in order to introduce him and his Christian values to those who may not have had the pleasure of visiting his church. "God is love, and we choose love to nourish and cherish one another," he said, echoing the church's motto. Even the website has love in it: www.mminlove.net. The pastor has served in virtually every area of the church. He began his service at age 12, as a "Junior Deacon" at his home church, Forrest Grove Missionary Baptist Church, in Kansas City. He was ordained as a Deacon at the age of 18 and went on to serve as Sunday School Superintendent, Finance Chairman, Usher Board President, Male Chorus President, Youth and Adult Teacher, Chairman of Deacons, and in many other areas.
Born in East Chicago, Indiana, the third of six children, his mother moved him to Kansas City when he was two years old.  He graduated from Wyandotte High School in 1966. After graduation, he attended a Junior College for a year, and then joined the United States Air Force in the fall of 1967. After completing basic training, and then attending technical training, Denson married the love of his life, Shirley Jones, on October 12, 1968. He served one tour of duty in Vietnam, and after his honorable discharge from the Air Force in 1972, Denson continued his education. He earned a Master of Education Degree in May of 1977.  In that same year Denson had completed 33 hours of the required 36 hours towards an Education Specialist Degree in School Administration. Instead of staying to complete this degree, Denson moved to Dallas to assume his duties as Dean of Students at DeVry University, believing that our future is in God's capable hands.
Among other subjects in the short video, T. J., as he likes to be called, speaks about the movie "War Room" and the effect it had on him. Like me, he found himself choking up and in tears during the powerful drama about a young couple's challenge to keep their family together during some outside influences. He and I agree that the movie should be viewed by a mass audience because of its wholesome message and family values theme. He will be recommending the movie to his congregation in the coming weeks.
On Sunday, September 13, Beth Nimmo, the mother of Rachel Joy Scott, the first student murdered in the Columbine High School shootings on April 20, 1999, will be the special guest speaker at Macedonia Ministries, 702 S. Mill St. in Lewisville. After that horrible tragedy, it was learned that the teenage killers specifically targeted Rachel Scott and mocked her Christian faith. We talked about the horrific carnage taking place in our country and how the attacks on religion may have contributed to them. After spending a short, but very valuable amount of time with Pastor Denson, it was evident that we not only need more movies like War Room, we need more pastors like T. J.
Bob Weir is a long-time Flower Mound resident and former local newspaper editor.