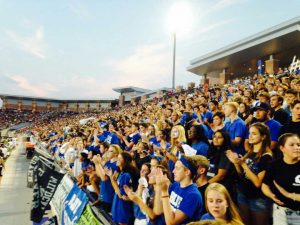 by Mitchell Mason
In a highly-touted Landry Classic 2015 match up, the Allen Eagles struck fast and then were able to pull away in the 2nd half from the Denton Guyer Wildcats and pull off a 48-16 win.
For the first time since 2011, a new signal caller took the field for Allen. Mitchell Jonke is facing the nearly impossible task of replacing arguably one of the top players in Texas high school football history in Kyler Murray. He impressed from the very first snap.
After Guyer went 3-and-out on their first drive, Jonke drove the offense down the field, finishing off the drive with a 44-yard touchdown strike to Camden Harrison to race out to a 7-0 lead. He would finish with 283 yards and 5 scores through the air, and one on the ground.
Guyer junior QB and TCU pledge Shawn Robinson was a victim of an inexperienced offense line, and could not get into any sort of rhythm passing the ball, finishing 7-22 for only 75 yards. He made most of his plays on the ground, with 20 carries for 158 yards, including a highlight reel worthy 55-yard TD run where he blew past Eagle defenders into the end zone to give Guyer a brief 10-7 lead.
The Wildcats tried to set a tone running the ball, but the tough and experienced Allen defense was well prepared, holding tailbacks Noah Cain and Myron Mason to 65 and 33 yards, respectively. Mason was able to find the end zone on a 1-yard scamper at the beginning of the 4th quarter, but that would be the closest the Wildcats would get to threatening the Eagles lead. In the end, Allen smothered Guyer, 48-16.
Despite the tough loss, many Guyer fans who made the trip to Allen, including their well-known student section, "The Blue Crew" kept their heads held high, knowing that this was tough game against a very tough team.
"I am excited to see how this year plays out," senior Kensington Moore said. "We're used to 6A football now, and based on success from the past years I expect us to continue and get better as the season goes on."
Guyer squares off against Ennis in their home opener next Friday, September 4.