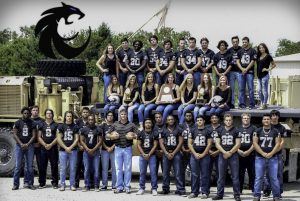 For the Guyer Wildcats, a 10-2 mark and area round playoff appearance was not quite what the football program had grown used to over the last few seasons, but a four-point loss to Southlake Carroll is nothing to be ashamed of either.
Guyer won another district championship in 2014, and coach John Walsh said that his players are hungry to get back after it.
"With the majority of our defense returning, we feel good about making a run at a title again," he said. "Our offensive line has shaped up to have a chance to be dominant and that bodes well for Shawn Robinson and company in the backfield."
Robinson threw for 2,800 yards and rushed for more than 1,400, and combined for 50 touchdowns at quarterback for the Wildcats in 2014.
Walsh said he also expects good things from Thabo Mwaniki and Brandon Daniel, who will start both ways at receiver and secondary, and middle linebacker Darius Timmons and returning defensive MVP Mike Carrillo.
In order to have a good run in the playoffs this year, Walsh said his team will have to, "come out healthy by playing a lot of our role players to keep gas in the tank."
Key games for the Wildcats this season include Sept. 24 at Keller, Fossil Ridge on Oct. 8 and Ryan High School on Nov. 6, which Guyer will host.