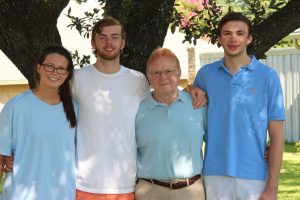 by Stephen English
Joseph Clayton thought he'd never have to use the CPR training he acquired to get a summer job as a lifeguard. But just weeks after he finished the course, the 18-year-old former Argyle resident had to perform CPR to save the life of his own father.
Ron Clayton, 62, had finished moving his family into their home in Dallas in late May. He, his sons Joseph and Matthew, 16, and Joseph's girlfriend, Bailey Beveridge, 18, were returning their rental truck when Ron abruptly lost consciousness in the backseat of their car.
His heart had stopped beating. The three teenagers went to work, calling 911 and Beveridge's father, a cardiologist, as Joseph began chest compressions on his father.
"It was pretty scary," Joseph said. "I try not to think about it too much."
The next nine days were scary for the entire family, which also includes twin sisters Catherine and Caroline, 14. Ron was taken to hospitals in Flower Mound, Denton and Plano.
"All the doctors said, because of the sudden cardiac arrest, if [Joseph] had not performed CPR, [Ron] would have never made it to the hospital alive," said Ron's wife, Kristi. "He's probably the most unselfish 18-year-old I've ever known in my life. He's an amazing son."
Ron had recently had a stress test, and his cardiologist said that while Ron had high blood pressure, he "had the heart of a 21-year-old," Kristi said.
"We noticed he'd get some shortness of breath when he'd walk up flights of stairs," Joseph added. "In the weeks before the move, my Mom was worried, she said he was at the age where men can have heart attacks, and I was joking with her, I said, 'Mom, he's not going to have a heart attack.'
"I was kind of in the mindset that this kind of thing doesn't happen to us, it happens to other people. Kind of like how I thought I'd never have to use CPR."
While treating Ron, physicians found that he had cracked ribs from Joseph's compressions. They reassured him that just meant he'd done it correctly, and told him that if he had not, Ron wouldn't have survived the trip to the hospital.
"I thought the whole time 'cardiac arrest' actually meant 'heart attack,'" Kristi said. "He just flat-out went into cardiac arrest. He didn't have a pulse; the doctors said basically he was dead. They say he's a living miracle."
Argyle Volunteer Fire District Chief Mac Hohenberger said administering CPR can often mean the difference between life and death.
"Everybody that I've ever seen that's been successfully revived and was able to walk out of the hospital was receiving really good CPR when we got there," he said.
Hohenberger said the first eight minutes after a cardiac episode are critical. During CPR, the only way the brain can receive oxygen is for the heart to be compressed by hand, which artificially circulates the blood. Kristi said Joseph wouldn't have known how to perform CPR if it hadn't been for a spontaneous idea that Beveridge came up with.
"Joseph and Bailey decided out of the blue they were going to get summer jobs as lifeguards. Just three weeks before, they had taken a lifeguard class and learned CPR," she said.
Hohenberger said the fire department offers CPR training courses every few months and is planning one in August. Check www.argylefire.com for updates.
Kristi hopes that sharing her husband's story will inspire others to learn CPR. It already has prompted some family friends to do so.
"That's what we're trying to get across to people," she said. "If my son hadn't known CPR, my husband wouldn't have lived. You could save a family member, a friend, even a complete stranger."
Ron is home now, walking with a cane and unable to return to work. Meanwhile, the medical bills are still coming in. The Clayton family has a GoFundMe page to help raise money to cover medical bills. Setting a goal of raising $10,000, they have, as of press time, raised $8,500.
"It's amazing," Kristi said. "It's been really touching to see. Some of those donors are people like my son, just 18-year-old kids working summer jobs and saving for college."