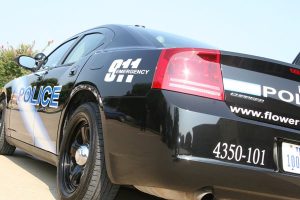 What follows is taken from the Flower Mound police blotter:
A 46-year-old man was arrested early on August 11 at the 6500 block of Burning Tree Drive and charged with assault causing bodily injury/family violence. He was released on $2,500 bond.
Later that day, a woman reported that sometime over July 30-31 someone stole $4,000 worth of equipment from Texas Environmental Management in Justin.
On August 13, a man reported that his blue 2011 Ford F150 had been burglarized in the 900 block of Lake Bluff Drive. Reports say $140 worth of tools, a $200 non-identified item and a $1,600 Intoxalock device.
That night, a London Lane man reported that his silver 2003 Kia Spectra was burglarized. Items stolen included a $500 Seagull Entourage guitar, a $30 Roadrunner guitar case and a $10 black capo. It happened in the 2800 block of London Lane.
On August 14, a 17-year-old man was arrested in the 3300 block of Heather Glen Drive and charged with injury to a child/elderly person with bodily injury. As of the report date, he was transferred to the Denton County Sheriff's Office and is being held on $5,000 bond.
That same day, an Oak Creek Circle woman reported that several items had been stolen from her home. Those inluded a $1,000 Canon camera; a $1,000 ring; $4,000 worth of jewels and two other unidentified items. Police have identified a suspect.
That afternoon, a Lewisville woman reported that someone stole items totalling $940 from her black 2015 Ford Fusion. The car was parked in the 2600 block of Long Prairie Road and $400 worth of damage was also done.
A 35-year-old man was arrested on August 15 in the 1100 block of Flower Mound Road and charged with forgery or alteration of a prescription. He is being held on $1,500 bond.
Late that night, a 38-year-old woman was arrested and charged with assault that causes bodily injury. It happened in the 2300 block of Condor Street. The woman was later released from the DCSO on $3,500 bond.
Also, a man reported that night that someone had stolen his tan 2003 Ford Ranger, worth about $2,000. The truck was parked in the 1600 block of Harvest Glen Drive. The truck was later found.
On August 17, a man reported that sometime between 9 p.m. on August 16 and 12:30 a.m. on August 17, someone broke into his house and stole his blue pitbull. The dog was estimated to be worth $599. It happened in the 4200 block of Gayle Court. Police have identified a suspect in this dognapping.