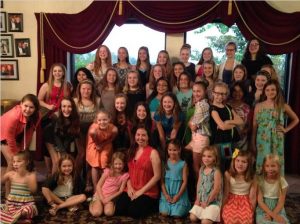 Flashback to 1989 – parachute pants, crimped hair, New Kids on the Block and a 10-year-old little girl with a dream. Fast forward to 2015. Fashion and hair styles are different, "New Kids" is NKOTB and that little girl is now the proud owner of Turning Pointe Dance Studio.
Amy Houston opened Turning Pointe in May of 2005 with humble beginnings. The studio began in Bartonville Town Center with one dance floor and three teachers. After the first year, enrollment doubled and by the second year, it was clear that two dance floors were needed to accommodate their growing dance family.
In 2011, more exciting growth lead to a move to the heart of Flower Mound. Over the last 10 years, Turning Pointe dancers have had the privilege of performing in yearly themed productions and community events. The studio created a dance company for students seeking more training and performance opportunities.
The dance company, now under the direction of Abby Holmes, has performed at Walt Disney World, Disneyland, Six Flags, the AT&T Cotton Bowl and most recently to a sold-out audience in Branson, Missouri. Next up is a show-stopping performance in New York in July of 2016.
While Turning Pointe has been blessed with success, Houston attributes this to the solid philosophy of which the studio is based: to provide quality dance education in a loving and encouraging environment. Houston's Christian values guide her and her staff of seven to select music, costumes and dance movement that is fun, yet age-appropriate and pleasing to God.
"Our students learn so much more than dance steps at Turning Pointe," Houston said. "As teachers, we want to pour into these dancers to strengthen their character and build their confidence."
A lot may have changed since that little girl imagined owning her own studio so many years ago, but one thing has remained constant: Amy Houston's passion for sharing her love of Christ and love of dance with her Turning Pointe family.