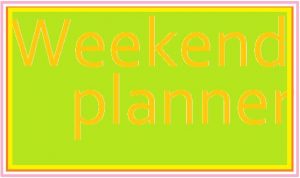 It's back to the weekend we go, and we thought you might like to know what's happening around our area.
Saturday
Market Street in Flower Mound is hosting a "Hatch Chili Fest" Sat. and Sun. to celebrate Hatch chili season here in Texas. The season started Friday. Market Street is having a roasting event from 10 a.m. to 5 p.m.
Color Me Mine has moved from Flower Mound to Highland Village and is holding a "Re-Grand Opening" celebration from 10 a.m. to 10 p.m. The party includes food, drinks, and prizes all day, including free ice cream from noon to 4 p.m.
Feeling like a romantic flick? The Notebook is playing at 8 p.m. in Denton Square as part of the Denton Summer Movie Night of the Walk to End Alzheimer's.
The Denton Community Market runs from 9 a.m. to 1 p.m. at Carroll Boulevard and Mulberry Street in downtown Denton. Check out local artisan offerings, fresh local produce and handmade arts and crafts.
Twiggy the Water Skiing Squirrel will make an appearance at the 3rd Annual SausageFest at Main Street Garden in Dallas. Besides sampling savory sausages and trying out sausage-themed games you wont want to miss Twiggy. Tickets are $15 in advance or $20 at the gate.
Sunday
Enjoy free entertainment for the entire family at Trietsch United Methodist Church's production of "Godspell," running through Monday.
Step into the enchanted world of Broadway's modern classic, Disney's Beauty And The Beast, at the Oh Look Theatre in Grapevine.
Fort Worth is a bit of a drive, but this one is worth it. The Fort Worth Zoo is having a Baby Bash this weekend to welcome its new arrivals — flamingo chicks, giraffe calves, lion and jaguar cubs. It lasts all day during zoo hours.