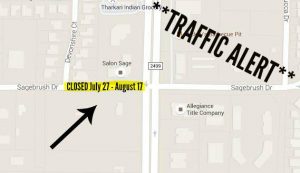 Starting on Monday, July 27, both directions of Sagebrush Drive will be closed from Devonshire Court to FM 2499 for the installation of storm drainage lines.
Residents will be able to access their property; however there will be no through traffic from Devonshire Court to FM 2499, according to Flower Mound officials.
The westbound lanes of Sagebrush Drive are expected to reopened by August 17, while the eastbound lanes will remain closed until reconstruction is completed, sometime in the summer of 2016.
Residents with questions or concerns about the project can call David Bauer, Construction Manager, at 972-874-6308 or the main Engineering line at 972-874-6310.