It's nothing but twirls for Highland Village resident, Chailie Alsaffar.
Alsaffar, 14, recently traveled to Lubbock to compete in the National Baton Twirling Association (NBTA) State Twirling Championships where won the title of Beginner Texas Miss Majorette.
Alsaffar had to compete in three events, winning them all to capture the title. Her win allows her to compete at Notre Dame University for the national title.
Alsaffar, along with her team members from Texas Touch of Class, won the Junior Dance Twirl Team, Primary Half Time Show Team and Junior Half Time Pom Team at the state competition. She is very excited to represent her home state of Texas at the national competition in late July.
On July 14, 2015 Alsaffar was honored by Mayor Charlotte Wilcox of Highland Village for her twirling accomplishments. During the council meeting Wilcox read a proclamation honoring Alsaffar and recognizing July 21-24 as Baton Twirling Week.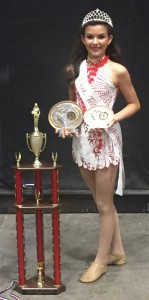 Alsaffar has been a Highland Village resident since February of 2009. In addition to twirling, she also enjoys singing, dancing, and spending time with friends. She volunteers in the children's ministry at her church and is looking forward to becoming a freshman at Marcus High School in the fall.
Alsaffar and the teams are coached by Shirley Payne and Sheila Rigelsky of Dallas. To learn more about Alsaffar and Texas Touch of Class, go to www.texastouchofclass.weebly.com.