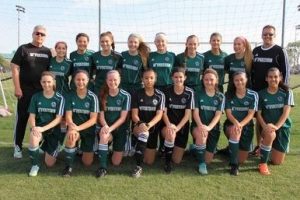 by Beau Moon
Flower Mound area soccer girls are well represented for the National Finals of the Elite Clubs National League, to be held in July 14-18 in Richmond, Virginia.
After a grueling 10-month season, the top 32 teams across the country battled in early July in Seattle, in the Champions League Playoff.  This playoff resulted in eight finalists, among each age division, including under 15, 16 and 17.
Locally, there are eight players from Marcus and Flower Mound high schools, who will represent their respective teams for the national title in the Under-15 age group.
Solar Chelsea Soccer Club:
Peyton Bauman, Lantana (Marcus High School)
Riley Mattingly, Flower Mound (Marcus High School)
D'Feeters Soccer Club:
Maddie Algya, Highland Village (Marcus High School)
Avery Hudson, D, Highland Village (Marcus High School)
Kendall James, M, Flower Mound (Flower Mound High School)
Taylor Moon, Highland Village (Marcus High School)
Elena Reyna, Flower Mound (Flower Mound High School)
Stephanie Starr, Highland Village (Marcus High School)
These girls play for two of the top Dallas-area based select soccer teams, including Solar Chelsea, currently ranked #2; and D'Feeters currently ranked #13 nationally.  Each team will compete against other teams from California, Colorado, Washington and Michigan for the ECNL National Championship.
Even though the United States is a bit insecure about its place in the world's most popular sport, the United States 5-2 victory over Japan in the Women's World Cup final proved that the appeal to the American public increasingly tuned into soccer, breaking records with more than 25 million viewers.
But, according to North Texas is a pioneer in girls soccer. Dallas-area teams captured six of the first nine girls under-19 national titles from 1980 to 1988. Texas ranks second among states in girls' participation in high school soccer, according to the National Federation of State High School Associations. But, we've won only three times since the 1990s.
Hopefully, this will change with two teams having a good shot for a national championship to bring back to the Flower Mound.