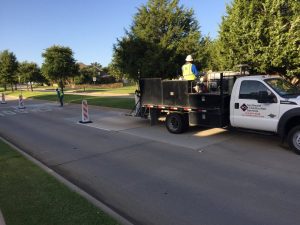 Summer is here and that means it's time for the community's annual street and sidewalk repair project.
The two fresh water supply districts at their June meetings approved a contract with Dallas-based Concrete Preservation for $47,000 to perform concrete repair on roads and sidewalks within the community.
Lantana General Manager Kevin Mercer said that the work this year involves 3,000 square feet of road paving and over a thousand square feet of sidewalk removal and replacement.
Motorists are urged to use caution on Lantana Trail as there will be various lane closures during the month of July while repairs are being made