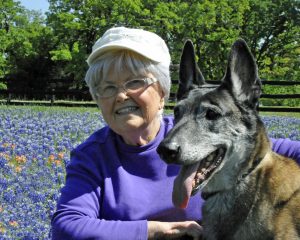 by Stella McDaniel (of Stella's Corner)
You came into my life right after I lost the love of my life (DeWitt) and you more than tried to fill the void in my life. You did a super job of it!
You would follow me from room to room. I miss those little pitter patter sounds. When I would go into the guest bathroom to use it you would come in for me to give you a hug and tell you how much I loved you, then you would go lie down in the den door.
When I would go to my bathroom to use it you were right behind me ready for me to brush you. That was where I kept your brushes. When you got tired of me brushing you would look up at me as if to ask could you leave. I would say you can go now Frisco, then you would lie down in the bathroom door and wait for me to leave.
You knew every time I was going somewhere because you would get your toy (ball) and wait for me to ask if you were ready to go which you always were. You went everywhere with me even to church but you stayed in the car.
Three days a week we would go to the senior center in Argyle and when I turned the corner to go up the hill you would stand up, put your toy in your mouth, and could hardly wait to get out. I would say wait, Frisco, until I got your water bowl and you obeyed.
You loved Cpt. Temple Cottle, Kim Collins and Kristi Gilbert because they would pet you and throw your toy (ball) for you to fetch. That was something you loved to do. Some of the seniors would come to our house every Thursday to play games and you would lie under the table sometimes and when you needed to go outside you would come to me and look up at me as if asking me to open the door so you could go outside.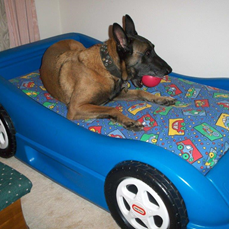 You were so special! You had your own private car bed in my bedroom that you would jump into when I said "Let's go to bed." Sometimes you would wait for me to tell you it was OK to go to bed if I wasn't ready and you would go on but was always awake when I came in to give you a goodnight hug and tell you I loved you.
Frisco, I loved you so very much and I know you loved me too. On June 11, 2015 we had to say goodbye to each other. It was the hardest thing for us to do. You will always be my Hero and Best Friend. I called you my little four legged boy, sweetheart and baby, and you answered to all of those.
Till we meet again in Heaven.
My love always!