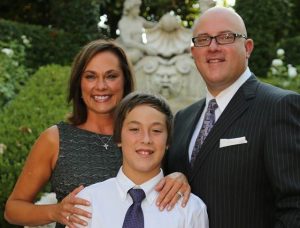 After 13 years at Lantana Golf Club, Stephen Phillips is heading to San Antonio to take the titles of Regional VP of Dominion Golf Group and General Manager of Dominion County Club.
"This is bittersweet and exciting," said Phillips. "As much as I loved my time in Lantana, this is an opportunity that I can't turn down. Lantana is a great place to raise a family but it is time for a new venture."
Phillips has been in the hospitality industry for over 20 years and worked for the Lantana Golf Club since it opened in 2002, the same year he moved to the community.
He started as Chef and Food & Beverage Director and climbed the ladder to Operations Manager, General Manager and in 2011 was promoted to his current position as Dallas Regional Manager for Dominion, which acquired the club from Lantana developer Republic Property Group in 2010. His responsibilities included oversight of both the Lantana and Bridlewood golf clubs.
Phillips also served the community as a board member for Denton County Development District #4 since Nov. 2013.
He attended Texas Tech University where he majored in Hotel, Restaurant and Institutional Management.
Phillips said that he is interviewing his successor and an announcement will be made soon.