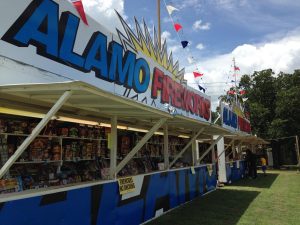 Despite the recent rain, local authorities are urging residents to resist the temptation of conducting their own fireworks shows this July 4th, and instead enjoy one of the professional fireworks displays in Denton County.
Most towns in southern Denton County prohibit fireworks, including Argyle, Copper Canyon, Double Oak, Flower Mound and Highland Village.
The Lantana Community Association banned fireworks in 2012 after several grass fires sparked by fireworks threatened homes on New Year's Eve.
Fireworks are allowed in other unincorporated areas of the county and the Town of Bartonville if they are discharged on private property, away from buildings and people.
Argyle Fire District Chief Mac Hohenberger said that anyone shooting off fireworks is responsible for damage caused to someone else's property.
The Denton County Fire Marshal will patrol unincorporated areas, looking for violations. Residents in those areas can report fireworks violations to the Denton County Sheriff's office at 940-349-1600.
Bartonville allows residents to use fireworks on their own property as long as the Fire Marshall has declared that it is a Burn Day. To determine if it is a Burn Day, visit the Denton County Emergency Services website or contact them at 940-349-2840.
Bartonville Police will be patrolling the town to enforce the fireworks regulations.
In Argyle, shooting off fireworks could land you with a fine up to $2,000.
"The Argyle Police Department will take a firm stance toward the sale, possession or discharge of fireworks in the Town," said Police Chief Tom Tackett. "Our officers will be out in force this July 4th to ensure everyone has a safe and enjoyable holiday."
If you plan to purchase fireworks to celebrate Independence Day, carefully inspect the packages to make sure that you only purchase legal fireworks designed for consumer use, marked as class 1.4G, said Chief Hohenberger.
Legal consumer fireworks include fountains, cones, and sparklers.
"Items such as M-80s, M-100s, quarter-pounders, and blockbusters may be presented for sale as fireworks, but they are actually federally banned explosives and can cause serious injury and even death," said Chief Hohenberger.
The Consumer Product Safety Commission estimates that in 2011, about 9,600 people were treated in hospital emergency rooms for injuries associated with fireworks. More than half of the injuries were burns, and most of the injuries involved the head (including face, eyes, and ears), hands, fingers, and legs. Children and young adults under the age of 20 years old accounted for more than 30 percent of the estimated injuries.
If you decide to set them off on your own, Chief Hohenberger offers the following safety tips:
– Check with your local police department to determine whether discharging fireworks is legal in your area.
– Never give fireworks to young children. Even sparklers can be unsafe in the hands of a child.
– Inspect fireworks before you purchase and avoid unlabeled fireworks. If you become aware of anyone selling such devices, report it to your local police department.
– Homemade fireworks are deadly. Mixing and loading chemical powders can seriously injure or even kill. Do not purchase or use any kits for making fireworks.
"Everyone doing their part will help make sure we all have a happy and safe Independence Day holiday," added Chief Hohenberger.