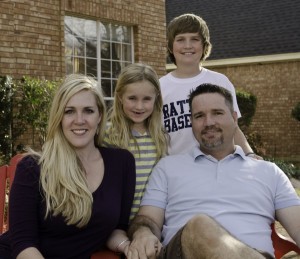 Thirty-six year old Tim Linville of Highland Village is a typical husband and father in many ways, but he differs in one pivotal aspect.  He is one of approximately 1700 people in the state of Texas that needs a new liver to improve their quality of life. 
Tim and his wife Vicki, along with their 10-year-old son, Jackson, and seven-year-old daughter, Lauren, face struggles that other families never even dream of as they come to grips with the fact that Tim needs a new liver to combat a degenerative disease that he was diagnosed with at the age of 20 when he was a college baseball player.
At the time of the diagnosis, Vicki said she and Tim had only been dating three months, but she was already falling in love with "this really incredible baseball player who turned out to be an even better dad."  Over the last 17 years, his wife says Tim has had a lot of hospital stays, and he is now on the transplant list waiting to receive a new liver.
No longer able to work and facing financial hardship, Tim has trouble sleeping, takes about 20 pills a day, but maintains his faith in the Lord.  "We know the Lord has a plan," Vicki said.  "For years our hopes were on a transplant, and we now put our hopes squarely on Christ."
Vicki said her family realizes they aren't alone in waiting for an organ donation to save the life of a loved one.  Another local family, Kent and Michelle Harris, also of Highland Village, are waiting for a bone marrow transplant for Kent.
Kent, 55, was diagnosed just after Thanksgiving with a disease called myleofibrosis.  "It's a very rare disease affecting one in 100,000 people," said his wife Michelle, "and the only treatment for it is a bone marrow transplant."  The family belongs to St. Ann's Catholic Parish in Coppell, and the church is organizing a bone marrow drive in April.  A date hasn't been set, but Michelle said those who would like to help can check www.stannparish.org for updates on when the drive will take place.
One of the ironies about situations such as these is that so many people need organ transplants, but donations are not common enough.  If more people donated, the waiting lists could even be eliminated.  There are many taboos about organ donation that the Southwest Transplant Alliance tries to allay.  That group is a non-profit organ and tissue donor program serving hospitals and patients throughout much of Texas.  One myth they dispel is that people are paid for or charged for organs.  However, officials say donor families are never charged, and do not receive any payment or compensation for the donation.
Another common fear, according to Vicki, is that medical personnel might not fight to save someone's life if they know they are a registered donor.  But, the Southwest Transplant Alliance team says there is no conflict between using organs/tissues and saving the life of a potential donor.  "Donation is not considered until all possible efforts to save a patient's life have failed and death has been declared.  The transplant team has no involvement in the patient's care prior to death and is notified only after death has occurred," according to their website.
According to the alliance, there are three main ways to donate. The first is at the time of the death of a loved one, and the donation is made to unknown recipients.  The second way, which Vicki said they only found out about in September, is called a direct donation.  That is when a person passes away, and the family chooses to donate organs to specific recipients, depending on whether there is a match or not.  The third way is a living donation, which can take place in certain cases such as kidneys and bone marrow, for example.
If you would consider being an organ and/or tissue donor, The Donate Life Texas Registry offers Texans an opportunity to officially and legally register.  Your organ donation could save the lives of up to nine people and your tissue donation could enhance the lives of another 50 people.
To register to become a donor, visit www.organ.org. Over 10,000 people in the state of Texas are currently waiting for organs ranging from kidneys, livers, pancreases, hearts, lungs and intestines.  Your generosity could save the lives of someone like Tim Linville, Kent Harris, or many others living right here in Southern Denton County.
Editors Note: The author of this story, Michelle Draper, has some first-hand experience with the miracles of organ donation. She was married for 22 years to Rusty Draper, a coach at Marcus High School, who passed away in 2004, seven years after receiving a heart transplant. Draper says the generosity of one heart-broken family bought her family seven additional years with Rusty, the father of three girls who were 11, 15 and 19 when he lost the battle with heart disease. The Draper family says one of their greatest comforts and joys is the fact that they were able to donate many of Rusty's organs and tissues, including corneas and bones, to help someone else enjoy the gift of life. "The fact that one family, on the saddest day of their life, donated their son's heart to my husband will never ever leave me. All of us consider being organ donors one of the greatest privileges of life," said Draper.