By State Senator Tan Parker
Fall is a wonderful time of year in Texas, reflecting nature's beauty and providing opportunities to cherish the holiday season as we pause and give thanks for our many blessings. November ushers in a season of gratitude beginning with Veterans Day—a solemn reminder of the valor and sacrifices of those who have worn the uniform of our armed forces.
Veterans Day emerged from the ending of hostilities of World War I in the eleventh hour of the eleventh day of the eleventh month in 1918. Initially a commemoration of the armistice, it became a day where we join together to honor the spirit and courage of all our veterans.
While this day is marked on our calendars, we should not limit our gratitude to those 24 hours. The service rendered by each of our veterans weaves unbreakable threads through the fabric of American life – our acknowledgment of their sacrifices must be woven just as tightly into our everyday actions.
I've long revered the history that is preserved at your Texas Capitol and the stirring monuments on the Capitol grounds. Through the stories they keep alive—memories of those who risked everything for a love of country and a belief in freedom—they uphold the bravery that shaped our great state and Nation. Those sacrifices in service to our Nation preserved the liberty and democracy that shaped our founding and shine a light in our quest for a brighter tomorrow—a hallmark of the indomitable American spirit.
Earlier this year, I had the incredible honor of welcoming voices from our past who have left an enduring mark on our present. The privilege of hosting sixteen World War II veterans alongside their families and friends in the Capitol was an experience that words only faintly capture. This gathering was not just a ceremonial gesture; it was a living bridge to our past, connecting us to the time when our world was in the grips of unfathomable conflict. Their stories are not mere footnotes in history books but are the sacrifices that have shaped freedom around the world. Their collective legacy is a testament to the impact of unity and the enduring human spirit in the quest for peace and liberty.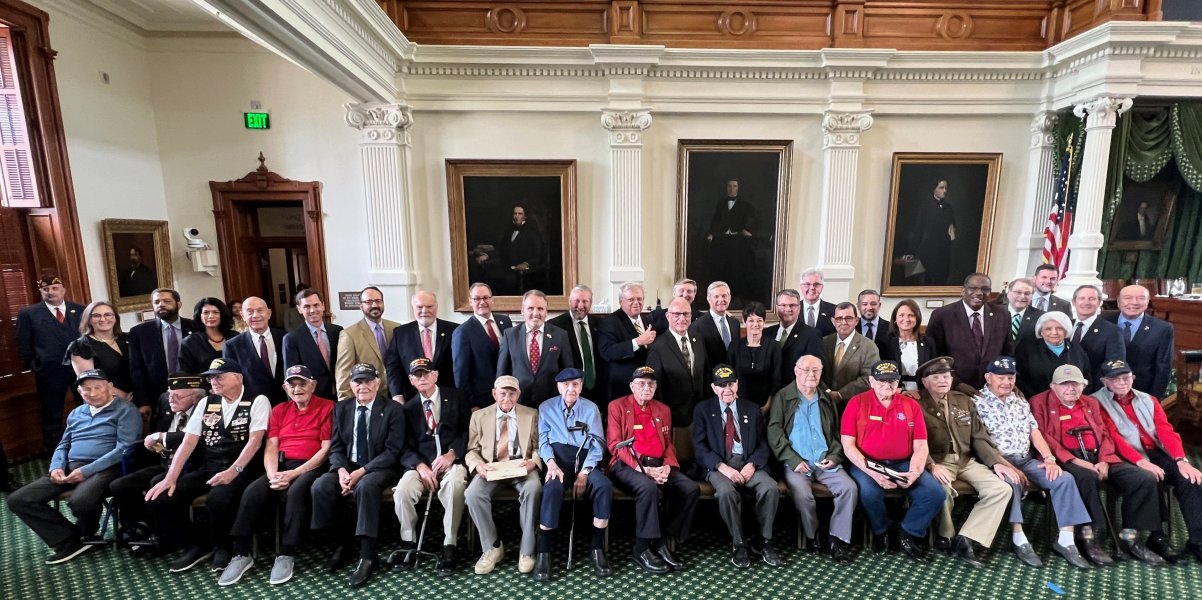 Our Nation's veterans will be recognized and celebrated in various ceremonies in communities across America – from luncheons to parades and displays of Old Glory. Those who have blazed the trail for us must never be forgotten, and there are so many ways we can honor, support, and give back to those who gave everything for us.
Strengthening our community bonds also rises as the spirit of Thanksgiving encourages us to lend a helping hand to our neighbors. Each year, I am humbled by the outpouring of Texan generosity, and I encourage you to lean in with local nonprofits and resources, as you give back in all the ways you can.
Thanksgiving's roots go back to the start of our Nation back in 1621, as Pilgrims began a tradition of celebration that continued throughout individual colonies and states. In 1863, as our great nation was enduring the wrath of the Civil War, it was President Abraham Lincoln who proclaimed a national Thanksgiving Day to be held each November. His firm hold on gratitude for the blessings upon America during one the most tumultuous times in history gave hope for a better tomorrow.
Triumphs and hardships that have shaped our history, and I know the spirit of generous giving is deeply ingrained in the hearts of every American. The words, deeds, and lasting legacies offered across Texas— especially throughout the countless nonprofits who never cease in their spirit of giving to others—make this very clear. My prayer is that ever more Texans embrace a season of Thanksgiving by helping one another and serving in the many areas of need that exist each day of the year not only in words but through our deeds, for this is the truest expression of our gratitude.
On this national day of giving thanks, Beth and I wish you a season of bountiful harvest and great blessings. And may this holiday bring further a reflection of the strength within each of us to be devoted servants for God and his will to be the difference in our families, neighborhoods, and communities and in turn, inspire the next generation to continue the circle of giving for the betterment of all.
It is an honor to serve you in the Texas Senate. Please stay in touch by emailing [email protected] or call 512.463.0112. You can also find updates on social media by following @TanParkerTX.