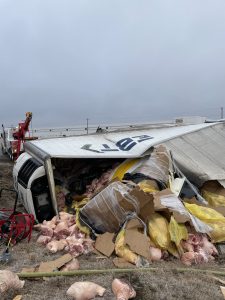 Two Northlake police officers were taken to the hospital Thursday morning after both of their police vehicles were struck by a tractor-trailer.
Roads were extremely slick from freezing rain on Thursday morning, causing many crashes throughout the area.
At 9:14 a.m., two officers in separate vehicles were parked on the shoulder of southbound I-35W, near Texas Motor Speedway, after responding to a vehicle incident. Then, a tractor-trailer hauling frozen meat products jack-knifed and hit both of the Northlake PD vehicles and an SUV with a female driver, according to a news release from the Northlake Police Department.
The truck overturned on top of one of the police vehicles, trapping the officer in his vehicle. The other police vehicle was sent about 50 yards down the highway.
Both officers were transported to a local hospital, according to NPD. Officer Matthew Koeper, 38, was treated for minor injuries and released. Officer Thomas Martinez, 47, is in stable condition in the ICU on Thursday afternoon. The SUV driver was checked by medics and released from the scene.
Neighboring first responders, including the Flower Mound Fire Department and Denton County Emergency Services District No. 1, responded to the crash scene, and I-35W was shut down for the investigation by the Regional Crash Team.
1 officer critical but stable and expected to survive, 1 officer soon to be released from the hospital after a semi slams Into Northlake officers as they block off I-35W for a previous accident. @LiveStormsMedia @AlaStormTracker @DFWscanner pic.twitter.com/jtUXndujdP

— Michael Beard (@MichaelBeardWX) February 24, 2022