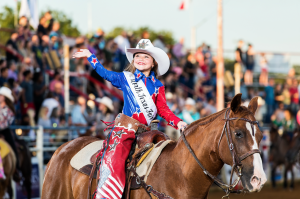 The 2020 North Texas Fair and Rodeo has been rescheduled from August to October.
"After diligent planning and consideration for the safety of our patrons," the fair is postponing its annual Denton event because of the coronavirus pandemic and surging COVID-19 cases in North Texas, according to a news release from the fair. The fair was originally scheduled for Aug. 21-29, and is now scheduled for Oct. 16-24.
"I cannot express how proud I am of our Board of Directors for reaching this carefully thought-out decision. The safety of all our fair patrons, as well as approximately 1,000 volunteers is always a top priority," said Executive Director Glenn Carlton. "Moving the 2020 North Texas Fair and Rodeo to October will not only allow us to have our fair in cooler weather, but we are looking forward to this event being a big part of the healing process for this community. I am excited to see that this event can still happen."
North Texas State Fair Association President Carl Anderson said organizers feel obligated to try to put the event on this year, keeping health and safety the No. 1 priority.
"The young people involved with their livestock projects need and deserve a time and a place to compete," Anderson said.
The North Texas Fair and Rodeo has a COVID-19 plan in place, but will continue to revise this plan in order to adapt to changes during this time of uncertainty, the news release said.