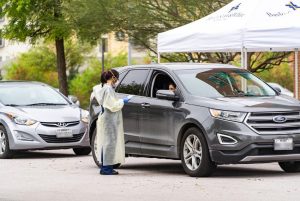 Free drive-thru COVID-19 testing centers have been announced to be held this week in Trophy Club and Carrollton.
One testing center will be conducted from 8 a.m. to noon at Trophy Club Town Hall, 1 Trophy Wood Drive.
Residents who have had coronavirus symptoms in the past weeks or are essential workers are qualified for the free testing, but you are still required to pre-register by calling 940-349-2585 on weekdays from 8 a.m. to 5 p.m.
The other testing center is scheduled for 10 a.m. to 6 p.m. on Friday and Saturday at Carrollton Church of the Nazarene, 1529 East Hebron Parkway. Eligibility requirements are the same as listed above, and to pre-register, call 512-883-2400 or go to txcovidtest.org.
For more information, go to DentonCounty.gov/COVID19testing.