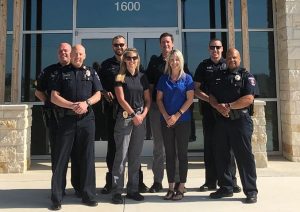 The Northlake Police Department moved into its new digs last week.
Police Chief Robert Crawford said the new facility, adjacent to Town Hall at 1600 Commons Circle, features new technology that will allow the department to better serve residents, and there is more room to accommodate the growing police force in the fast-growing town.
"Our biggest asset are the men and women who serve the community of Northlake, be it police, public works, or other staff – all are essential to the smooth operation of services we provide," Crawford said. "The new police building will allow us to serve the community better with a larger lobby area, soft interview room, and public restroom in the entrance area of the building. The camera system installed on the outside of the building will allow members of the community to make package exchanges or child custody transitions in the front parking lot in a safe environment."
The new building also features a training room that will also function as a community room when local organizations need a meeting space, according to a news release from the town.
After about seven years in the former location, Mayor David Rettig and the Northlake Town Council determined that NPD had outgrown the existing facility and required new technology. The old facility will function temporarily as an annex for the public works department, according to the town.
"I am very proud of this new facility which better reflects the professional services provided by the Northlake Police Department," Rettig said. "The investment in a leased space minimizes the cost to replace the police department offices with a high-quality facility that our residents expect and our officers deserve, in a location that better serves the public. We are pleased to provide upgraded spaces for our officers to continue the critical work that they perform on behalf of the town of Northlake."
A grand opening event will be announced later.