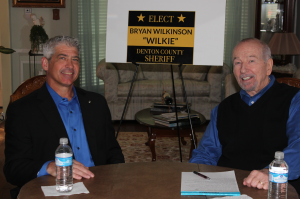 As we close in on March of 2020 the campaigning for elective offices will become more intense. In Denton County there are several contested races that the voters should be aware of. One of those positions is that of County Sheriff. Incumbent Sheriff Tracy Murphree is being challenged by a former lieutenant with the Denton County Sheriff's Office. Both Republicans will be running for the GOP nomination in the March 2020 primary. I invited Mr. Wilkerson to come over for a video interview. In addition, he sent the following bio:
"Bryan "Wilkie" Wilkinson has spent the majority of his adult life serving our great nation and Denton County. He served in the United States Marine Corps where he participated in both Operation Desert Storm and Operation Restore Hope in Somalia, conducting humanitarian and combat operations while serving in leadership roles. Prior to being honorably discharged from the Marine Corps, Wilkie served as an instructor at the elite U.S.M.C. Scout Sniper school. Wilkie's service in the Marine Corps gave him the foundation of true leadership and working with men and women on the ground.
"Shortly after completing his service to our country, Wilkie joined the Denton County Sheriff's Office where he served in a variety of assignments to include: detention officer, patrol deputy, instructor, Special Crimes Unit, narcotics, S.W.A.T. team leader/S.W.A.T. commander, fugitive deputy, Special Deputy United States Marshal, and supervisory & command positions just to name a few. Of interesting note, Wilkie is the only candidate for Denton County Sheriff in the last 20 years (or more) that has actually worked in the county jail. This experience has provided him unique and valuable insight into the largest operating sectionof the Sheriff's Office. After a long and distinguished career, he retired as a lieutenant from the Denton County Sheriff's Office in 2018.
"Since his retirement from the Denton County Sheriff's Office, Wilkie has concentrated his efforts on training law enforcement officers and civilians all over the country in a variety of courses. He has even been a consultant for a company that develops 3D training environments for law enforcement. Wilkie has been married to his wife, Kady, for 16 years and both a father and grandfather. When he isn't working hard to train officers, he likes to spend time outdoors, trail running, camping, fishing, hiking with his family and watching his son play water polo."