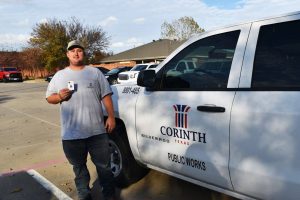 The Corinth Police Department has received reports of people impersonating Corinth Public Works city employees in an attempt to enter homes.
About 1 p.m. Wednesday, three Hispanic men knocked on the door of a home in the 2800 block of Tori Oaks Trail and claimed they were Corinth water department employees who needed to fix a leak inside the residence, according to a Corinth police news release. The elderly homeowner let them in and asked more questions about the leak. A family member soon arrived, and the three men fled on foot and drove away in a brown Ford pickup.
City of Corinth water employees have city badges, wear uniforms with city logos and drive vehicles with city logos as well. They won't ask to enter your residence and they will leave door tags for information about leaks, according to the city.