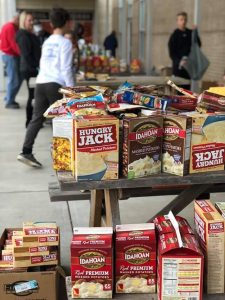 Mission Moms, a Canyon Oaks-based nonprofit, is seeking donations for holiday meals for hundreds of Denton County underprivileged families.
The group's annual Holiday Blessings mission collects food donations and delivers meals  and food boxes to more than 1,200 families at Thanksgiving and Christmas.
A holiday meal for one family includes two large cans of green beans, two large cans of corn, two large cans of fruit, two boxed desserts, two boxed bread mixes, a large box of mashed potatoes and a turkey.
Mission Moms will purchase and deliver the turkeys, and the group is seeking donations of the other food items by Nov. 21.
A donation drop-off is scheduled for 3-4 p.m. on that date at the Lantana North Pavilion, 11555 Lantana Trail.
The group will also collect donations for Christmas meals and toys for the kids in these families.
If you would like to help collect donations and serve as a drop-off location, contact Kathryn Flores, president and founder of Mission Moms, at [email protected]. For more information, click here.