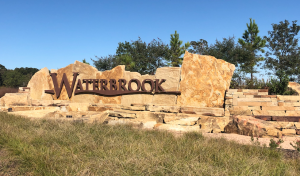 The Argyle Town Council approved requested variances for a future medical office building in the Waterbrook development.
Waterbrook is a 105-acre development– with 287 residential lots and 191,000-square-feet of commercial and retail space — located in the southeast corner of FM 407 and Hwy 377. Approved in 2016, home construction recently began in the development, and the first commercial development got the green light during last week's council meeting.
The first phase of a proposed medical office development will be a 7,500-square-foot medical office building and parking lot at FM 407, east of Hwy 377, and the applicant requested approval for a building articulation and two landscaping variances. The Planning & Zoning Commission had recommended approval. There are three more anticipated future phases for this lot, and they will be "similar in nature to the proposed facility," according to the applicant.