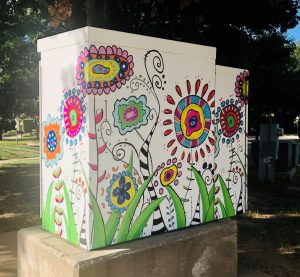 By Elizabeth Brannon
There are many exciting arts related activities happening in Flower Mound this fall.  The month of October features new opportunities for artists to create and share their works and for the Flower Mound residents to enjoy the arts, both in public spaces and personal journals.
NEW: Signal Box Wraps – As of September 30, there are three signal boxes that have wraps. The locations are Flower Mound Road & Furlong, Peters Colony & Old Settlers and Morriss & Firewheel. As you drive by theses intersections, enjoy the colorful art that graces these signal boxes and brightens each neighborhood.
In October, the contest to produce the art that will be chosen to be put on the signal boxes begins. Information about this contest can be found on the Town of Flower Mound Social Media site and on the Cultural Arts webpage.
Design submissions will be based upon 2 themes: The Flowers of Flower Mound and Cultural Diversity
Designs can be created digitally or can be a photograph of a painting or drawing
We will do up to 3 designs per year on different signal boxes around the town.
All ages of artists are welcome to submit!  Preference will be given to Flower Mound residents.
None of the artists who are featured on the signal boxes or on the Town Hall Art Wall receive any compensation.
NEW: FloMo Inktober #FloMoInktober
Based upon the national art challenge, "Inktober" has the goal of improving drawing skills and developing positive drawing habits. Each day, artists all over the world create a drawing or some type of artwork in a journal based upon the given word for that day. The list of words for FloMo Inktober was created to reflect the unique qualities of Flower Mound.
All ages are welcome to participate! Use the hashtag #flomoinktober if any of the artworks are shared on social media. Some of the journal entries will be chosen to be featured on the Cultural Arts webpage. Artists can donate their completed Inktober journals to the Flower Mound Library Visual Journal Library that will open this November.  Details about the visual journal library will appear in the November article here in the Gazette.
Green
Park
Safe
Community
Celebrate
Trail
Patriotic
Recreation
Peacock
Art
Play
Country
Family
Bluebonnet
Commute
Fiesta
Jaguar
Heritage
Kind
Prairie
Suburb
Wichita
Wildflower
Coffee
Traffic
Friendship
Marauder
Education
Creative
Environment
Festival
NEW: Local Edible Art Featured on Food Network
Do you know that Flower Mound has a unique and wonderful Edible Art artist here? If you've been to the Hive Bakery in Parker Square, then you know what I'm talking about.
Haley Popp is the bakery owner and design artist for the cakes and edible creations Hive Bakery produces. Based on the cake and pastry awards and photos on their web site and other social media, more than a year ago, Haley was contacted by the Food Network and invited to appear as a contestant on the Halloween Wars program this month.
Haley was part of a team that included a pumpkin carver, a sugar artist and a cake artist (Haley). Her team competed against four other teams for the win, bragging rights and a grand prize of $50,000!  The competition and the results will air on the Food Network, at 8 p.m. every Sunday Night now until Halloween! Sorry, we can't reveal the results, so you need to watch the Food Network Halloween Wars 2019 series and recognize that we have a celebrity here in Flower Mound!
CONTINUING: Town Hall Art Display
The art on the wall of Town Hall will be new for October.  Stop by Town Hall each month and discover the new art on display.
Read the Cultural Arts Calendar for information about arts happenings in and around Flower Mound. October is definitely an exciting month for the arts. Enjoy!
Elizabeth Brannon serves on the Flower Mound Cultural Arts Commission.