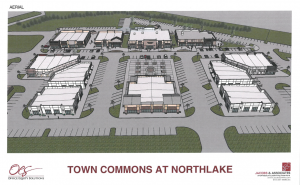 Several business have opened recently and many more are on their way to Northlake at the Northlake Town Commons, which is currently under construction.
The town of Northlake was one of the first tenants when it opened its new Town Hall in December 2018 at the new development, located on FM 407 in front of the Harvest subdivision. Other tenants currently open for business include Northlake Dentistry, Northlake Family Eyecare, La Vie Nails, Adult Health Services and Northlake Pet Hospital.
Those tenants are just in two buildings. Ten more are coming to Northlake Commons, and several other new tenants have signed leases to move in soon, including Family Health Care, Ridder Orthodontics, Riata Physical Therapy, Anchor Dry Cleaners, Northlake ATA Martial Arts, Papa John's, a pharmacy, a soon-to-be-open Italian restaurant and the Northlake Police Department.
There will be plenty of remaining space for other businesses, said Gary Phillips, executive director of marketing for Office Equity Solutions, the developer. The entire development is planned to have about 105,000 square feet, and more than half of it has been leased. There are still four future buildings, about 40,000 square feet, available to new tenants. Phillips said he would like to see businesses such as a family hair salon, a bank, a pack-and-ship store and a Tex-Mex restaurant come to the Commons.
"We know those would be very well received," Phillips said, adding that new tenants can have new buildings constructed "to their liking."
When the development is complete, Office Equity Solutions hopes it will look and feel like a small town center that is giving the fast-growing number of Harvest-area residents new options for services and businesses that will be much closer than their next-closest options in Denton, Roanoke or Alliance.
"It's an exciting development because it's an exciting community," Phillips said. "The town manager and mayor said they're selling four houses a day in that area. We want to give all those new families closer options to run errands, get a haircut and have dinner."