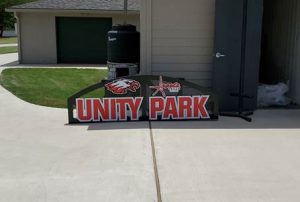 The town of Argyle was planning to officially and finally choose a name for its park on Tuesday, but an unexpected snag has delayed things.
The park, located north of Argyle Intermediate School on Crawford Road, opened last spring but hasn't been given an official name. It's been casually referred to as Argyle Community Park and Unity Park, among others, but the town wanted to name it and give residents a voice in it. With a donation from BPS Jet, the town's newest corporate sponsor, the town will be able to purchase a monument sign for the park.
Last month, the town sought name suggestions from residents on Facebook and then created a survey for residents to vote for their favorite name. The results were read at Tuesday night's Town Council meeting: of 540 votes cast, the top three vote-getters were Argyle Town Park with 158, Eagle Park with 136 and Unity Park with 96.
Council would've likely then named the park Argyle Town Park, but the issue had to be tabled because just before the resident voting process ended, the town found out that the Argyle Youth Sports Association — which uses the ball fields at the park — had already ordered custom scoreboard signs displaying the name Unity Park. The association had assumed that was the name of the park and spent more than $10,000 on the signs, said Town Manager Kristi Gilbert.
Because of the AYSA signs, town staff recommended the town officially name the park Unity Park, but some council members objected to that.
"That (recommendation) kind of flies in the face of the population," said Council Member Alex Vukasin. "Unity Park came in third."
After brief discussion the Town Council decided to table the issue and find out from AYSA how much it would it cost to change the name on the signs, expressing a willingness to help pay for it.