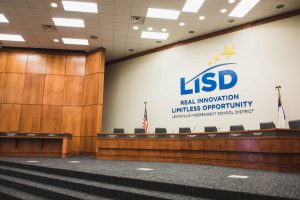 By Leopold Knopp, Contributing Writer
The Lewisville ISD Board of Trustees approved districtwide raises for the 2020 school year in a special board meeting July 15. The board also heard from Balfour Beatty vice president Jon Moreau on the progress of Mill Street Elementary, which might not be ready for school to start on Aug. 13. 
After much discussion, the board adopted a plan for raises across the district. Teachers with fewer than five years experience will receive a 2.5% raise, teachers with between six and 15 years experience will receive a 2.75% raise and teachers with 16 or more years experience will receive a 3.5% raise. The experience does not need to be with LISD specifically. The board approved a 2.5% raise for all other district employees and a 2% raise for all other administrators, and also increased starting teacher salary from $53,750 to $54,500. 
While the board gives out raises yearly, in discussion, board members said they felt pressured by news coverage surrounding Texas House Bill 3, the school funding reform bill that Lt. Gov. Dan Patrick described as providing a $5,000 permanent raise for all full-time teachers. The reality of the bill is more complicated than that — districts are provided with more per-student funding from the state, and the bill mandates that a portion of that be spent on raises. LISD and school districts across the state struggled to plan for the next school year not knowing what the final numbers would look like until the bill was finalized and passed in May.
Letting teachers know how much more they'll be getting as soon as possible was the reason the meeting was called in the first place, board president Katharine Sells said in a phone interview Thursday. The board typically takes July off, and many members rescheduled vacations to attend. Board member Kristi Hassett was not at the meeting. 
The raises are another facet of the board's quickly tightening budget. After falling into statewide recapture due to an unplanned for attendance drop in the 2018 school year, the board operated at a deficit for the 2019 year, and may be heading toward another deficit budget in 2020. 
Board vice president Tracy Scott Miller said the 3.5% raise is the largest the board has ever given during his tenure, and said the raises went above and beyond what was required by the state. 
"I think that this is trying to get us to a position where the state wanted us to. They certainly didn't deliver on their part," he said. "But I think it helps show the teachers and the instructional aids that we've taken some risk here and, we say this every year, we may not be able to do that next year."
Superintendent Kevin Rogers said the district may eventually need to hold an election to raise taxes within the next few years. 
"I'd be kidding you if we're not eventually going to have to go to our voters," he said. "All of our surrounding districts have already passed the TRE [tax ratification election], and we are hamstrung and we have been good stewards of taxpayer money for longer than most in terms of not coming back to our taxpayers and asking for that, but we're at a disadvantage compared to the Friscos, the Dentons, the Planos, because they've already done it." 
The board also heard an update from Balfour Beatty vice president Jon Moreau on the construction of Mill Street Elementary, as has become a monthly custom. Balfour Beatty has been struggling to get back on schedule after a rainy March, and with less than a month before doors are scheduled to open on the 2020 school year Aug. 13, they don't know if the school will be ready. 
"[Our date] For completion? I don't know, because we're doing stuff out of sequence right now to try to get kids in, so," Moreau said.
District administration planned a tour of the facility for Thursday, at which point Rogers said final decisions would be made on whether to start re-arranging teacher move-in dates and meet-the-teacher night. But at the meeting, uncertainty lingered.
"I think we're going to miss the date," Miller said. "We're one or two rainstorms away from the 9th not looking good. The teachers are, they're on standby. There are ready forces just waiting to bring their boxes."
Rogers said the district has a contingency plan in case the school is not ready, but as of Thursday night, Sells said she hadn't seen any emails on the matter.
"You have to remember, these students are coming from existing schools, so they just wouldn't go to their new school, they'd stay at their existing school," Rogers said at the meeting. "The question that we'll have to decide, and there are several options, is how long do you keep them at the existing school."
Rogers said the transition could be after the first semester, after the first nine weeks, or some other period of time. 
The Cross Timbers Gazette will follow up with further information on Mill Street next week.