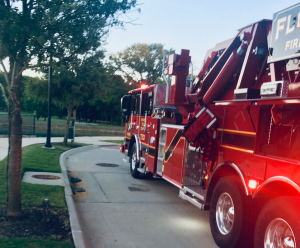 A Flower Mound man has died after an accident that landed his vehicle in the water at the Flower Mound River Walk.
Just after 7:30 p.m. Sunday, witnesses reported a white vehicle accelerating for an unknown reason into the water in the 4400 block of Riverside Drive, according to the Flower Mound Police Department. The 34-year-old driver and his 8-year-old daughter were pulled from the vehicle by first responders before it became submerged in the water.
The man was transported to the hospital, where he was pronounced dead at 8:31 p.m., according to the Tarrant County Medical Examiner's office. He has been identified as 34-year-old Daniel Morrow of Flower Mound. No cause of death has been ruled, as of Monday morning.
The girl was OK after the accident, officials said. A police officer received minor injuries when he jumped in and broke the window to get the driver out.
Police are looking into the possibility that the man was having a medical emergency at the time of the crash due to witness reports and information gathered from relatives.
This is the second time that a vehicle has been driven into the water in the River Walk in about two weeks.