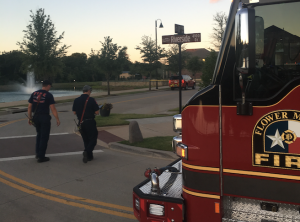 A vehicle with two occupants drove into the water in the River Walk area on Sunday evening, according to the Flower Mound Police Department.
The accident was reported at 7:37 p.m. in the 4400 block of Riverside Drive, said Capt. Shane Jennings, FMPD spokesman. Witnesses reported the vehicle apparently accelerated for an unknown reason as it headed toward the water.
The driver, an adult male, and the passenger, a juvenile female, were both pulled from the vehicle by first responders before it sunk, Jennings said. The passenger has no apparent injuries, but the driver was treated and transported to the hospital in unknown condition. A police officer received minor injuries when he jumped in and broke the window to get the driver out.
The vehicle became fully submerged after the occupants were rescued, and the accident is under investigation, Jennings said. More information is expected to be released Monday morning.
This is the second time that a vehicle has been driven into the water in the River Walk in about two weeks.