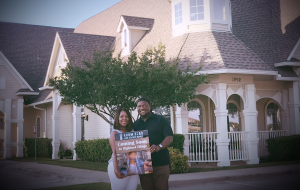 An escape room business is expected to open soon in Highland Village.
Local residents and husband and wife Jarrod and LaTarsha Davis are the owners of the new Escape Room 5280, which is expected to open in August at 1992 Justin Road, Suite 200. Room 5280 has several locations around the country, and this will be its first in Texas.
"We decided to bring the exciting Escape Room 5280 experience to Highland Village because we know the community will love it as much as we do," said Jarrod, a former police detective who also served in the U.S. Marines.
Escape rooms are team-based games where groups work together to find clues and solve puzzles before the clock counts down. They have become increasingly popular activities for groups in the past several years, and this will be the first escape room in southern Denton County, outside of Lewisville.
Click here for more information.