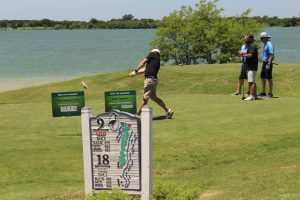 A family golf scramble that was organized by a local middle schooler raised more than $3,000 for Denton County Friends of the Family, a local nonprofit that provides compassionate and comprehensive services to those impacted by abuse and violence,
Drive for Awareness, presented by Elite Financing Group, was planned by a middle schooler named Abbi, whose passion for helping other kids stems from her own experience with Denton County Friends of the Family years ago, according to a DCFOF news release.
"When I was younger, my mother and I received services from Friends of the Family," Abbi said. "We lived in the shelter for six weeks and while there, I was able to go through play therapy and since then I have really focused on golf! I started playing in Kindergarten and this game has given so much to me."
A few months ago, Abbi had the idea of a family golf scramble where other kids can play a round and raise money to help other kids, and her vision came to fruition earlier this month when about 40 people participated in Drive for Awareness.
"We are so grateful to both Abbi and her parents, Rachelle and Torrey Pinkerton, for all their hard work on this event," DCFOF said in a statement. "This just goes to show that even a small person can have a loud voice and advocate for other kids in need. Thank you, Abbi!"