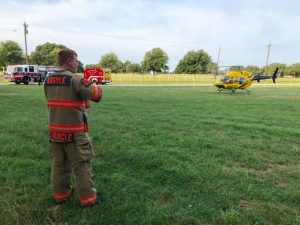 A female pedestrian was struck by a vehicle in Bartonville early Monday morning and air-lifted to the hospital, according to police.
Bartonville Police Chief Bobby Dowell said police responded to the vehicle/pedestrian accident around 6:45 a.m. Monday in the 1400 block of East Jeter Road, and the pedestrian was taken by air ambulance to the hospital. Dowell said late Monday afternoon that police were still investigating the incident.
That section of the road was closed for over three hours while police worked the scene.