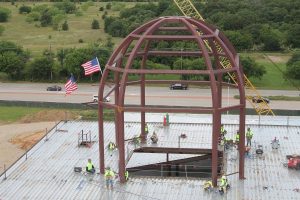 Work is progressing on the future Denton County Courthouse, as the 40-foot steel dome was lifted Friday to the top of the building under construction off Loop 288.
Denton County shared a video of the construction milestone on its Facebook page Friday as Denton County Judge Andy Eads spoke highly of the future building.
"We're so excited about this new project," Eads said. "It's going to be a new landmark here for not only the city of Denton, but all of Denton County as we celebrate the wonderful government services that are going to be performed right here on this campus.
The new 95,794-square-foot government center will house administrative and Commissioners Court offices now in the Joseph A. Carroll building and the Courthouse-on-the-Square.
The county broke ground on the new courthouse in November 2018. The facility will cost around $41 million to build with construction expected to be complete in fall 2020, according to the county.
https://www.facebook.com/DentonCountyTX/videos/351202625578758/?__xts__[0]=68.ARDGwlvAr6IPkCHhJ_Ym6QYRoec3swYtXVeM075l5vLYruFTIWVx8FEEkUUvvHZnCmYmHfyezRIrny_gRlAOlISyry_0gstvt5RnJOid3iLsbkM_INRUPeh0czIJuZRwUep4fQOatl9Bw3-Zbl4Z-8FOe_W8CLNMefRAEhCENWwkm9NrqKH2dps8uKpCnN7jSO_FUBBdpNvUdsTPy4obfyT71cWYIjf5k04zUu3APJwQitQGtBjF82mPVjC1GozCFggFu1Ub9cqzOuL8mdr8yhvHc5V-4EazvHZYXUcDBwNiGSMryOHub1EI7ZgmueFAn_QYzPP6Qymz-_Qy_kJXVrWI23N_d6PHpqOJPKDpR3VjJn58GY0apzU0aHhgybv0YeG_FLI&__tn__=-R