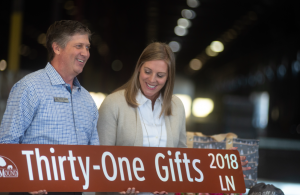 Flower Mound Town Council during its meeting Monday unanimously passed a Tax Abatement Chapter 380 Agreement with Thirty-One Gifts, which had its official ribbon-cutting on May 1.
The new distribution center is located in the former 651,000-square-feet Kohler building on Garden Ridge Boulevard in the Lakeside Business District. It is projected to be a major employer for more than 650 staff, with 100 people already in place.
Founder and CEO of Thirty-One Gifts, Cindy Monroe, who began the direct-sales company in her basement in 2003, came from the Ohio headquarters to wield the ribbon-cutting scissors for the new facility. It will service some 1,200 centers worldwide, plus 60,000 independent sales consultants. Also on hand were Kim Ralston, executive director of Operations and Lou Fratturo, vice president of Operations.
Thirty-One Gifts specializes in fashionable handbags, wallets, totes and accessories. The facility features machines for sewing, embroidering, printing and cutting, as well as a conveyor system.
All of its products are sold through independent consultants, some of whom already live in the Flower Mound area, as well as through online parties and retail ordering.
Monroe said the company is making a $7.5 million capital investment in real property, another $10 million new business personal property, plus $3 million by relocating its distribution center from its headquarters in Ohio.
Economic Development Director Andrea Roy said the incentive agreement could lead to a net benefit of $6.1 million for Flower Mound over a 10-year period, factoring in the $900,000 cost in incentives. She said the payback period is only over three years.
She added Thirty-One Gifts expects to source 5- to 10-percent of sales in Flower Mound, which could result in between $20 to $40 million in sales tax.
"If indeed we end up where we think we do, it's going to be quite a significant amount to the town and a wonderful benefit," said Roy.
The council approved a five-year, 50-percent real and business personal property abatement after 2019, a five-year, 50-percent sales and use tax rebate, plus a building permit fee-waiver as terms of the incentive.
"It's a great incentive," Roy said. "It's one of those where we're giving a little and getting a lot."
Roy said there are other benefits to the relocation not included in the abatement, such as bringing employees to the town to shop and dine in Flower Mound.
Shipping is expected to start from the Flower Mound facility by July.
A $10.5 million Guaranteed Maximum Price (GMP) for the Flower Mound Public Library expansion also was approved by Town Council.
The construction of the 15,000-square-feet addition to the existing 25,000-square-feet library will be done by Steele and Freeman, Inc.
The expansion includes a program room, a dedicated children's area, a teen area, a second multipurpose room, a digital lab, four additional study rooms for a total of seven, a quiet reading room, plus two reading patios and an outdoor café.
The western side of the new addition will feature glass-wall rooms for views of the future Peters Colony Park. An additional 11 parking spaces to serve the new park– adding to the 145-spaces on the new north side of the building– for an additional approximately $55,000, will be funded by park development fees.
The groundbreaking ceremony is set for 4 p.m. on Friday, May 17, said Deputy Town Manager Debra Wallace.
She added that the library will remain open during construction, with the possible exception of a few days, with the majority of the project set to be completed in September 2020.