The Northlake Police Department is seeking more information after a subject escaped from police while driving a stolen truck loaded with stolen equipment.
On Monday, Northlake police was first made aware of "porch pirates" stealing packages from the front porches of homes in a nearby city, according to the town of Northlake. Police were sent a photo of the suspect putting a package in a truck.
About 1 a.m. Wednesday, a Northlake officer saw that same truck leaving the Harvest neighborhood and pulled it over. The subject driving the truck stopped and fled on foot, and police couldn't find him, according to the town. However, officers discovered that the truck was stolen and it was loaded with equipment that had just been stolen from the new Argyle West Elementary School in the Harvest subdivision.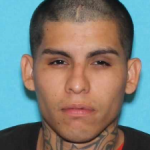 The Northlake Police Department is asking residents in and around the Northlake, Argyle and Justin areas to review their home security cameras if they have had items stolen from their porches recently.
Northlake Det. Williams would like to speak with this subject: Isiqiuo Robert Herrera. If you have seen him or know him, contact Det. Williams at 940-648-4804 ext. 237.