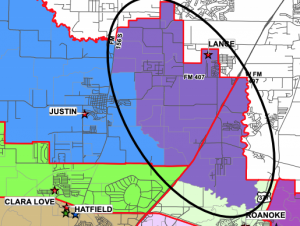 The Northwest ISD Board of Trustees approved Tuesday new attendance zones for the 2019-20 school year, with the biggest change being caused by the new elementary school in the Harvest subdivision.
Maps of the new attendance zones by campus level can be seen here.
Notably, the attendance zone is now set for Lance Thompson Elementary, the new school in Harvest that will open at the start of the 2019-20 school year.
The Lance Thompson attendance zone includes the west side of Harvest and Canyon Falls, as well as much of the area between those neighborhoods and the city of Justin, including the future Pecan Square community, where Hillwood plans to build more than 3,000 homes just west of I-35W and south of FM 407.
With the approval, district officials will this week send letters describing the attendance zone changes to families affected by the rezoning.
The 2019-20 attendance boundaries were approved following community feedback and a recommendation from a committee composed of parents, school representatives and district staff, according to a district news release.
Feedback was solicited through the Thoughtexchange online discussion process and Facebook Live presentation, providing the committee with guidance for what the community views as the most important factors in rezoning.